Competition Hot in Multifamily
---
---
Record-low mortgage rates have helped to fuel the nation's refinancing activity for residential homes. In July, the number of mortgage applications filed hit a three-year high. Freddie Mac also reported that 30-year, fixed-rate mortgages averaged 3.49 percent for the week ending July 26.
Likewise, attractive rates are fueling financing in the multifamily market, where financing for low-leveraged rental buildings has reached its lowest levels in decades. The result? Fierce competition among lenders looking to provide financing for the asset class, particularly in the Big Apple.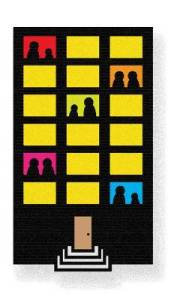 Interest rates as low as 3 percent for five-year financing, 30 to 35 year amortization at par, non-recourse are being offered. And borrowers are taking advantage of seven- and 10-year fixed-rate financing, which is being offered below 4 percent.
Commercial/multifamily mortgage origination volumes during the second quarter of 2012 were up 25 percent compared to second-quarter 2011 levels as well, according to a Mortgage Bankers Association survey that also charted a 39 percent increase from the first quarter of 2012.
"Commercial and multifamily mortgage lending and borrowing continued to pick up in the second quarter," said Jamie Woodwell, MBA's vice president of commercial real estate research. "Every major investor group increased their lending."
In fact, each and every day lenders from around the region are knocking on the doors of owners of rental properties soliciting and offering low-cost financing. Some of the newest for this asset class include Connecticut-based People's United Bank and Montebello, N.Y.'s Provident Bank.
"We are focused on growing our commercial real estate business, particularly in the multifamily segment, across the metro New York market," said John Costa, executive vice president, commercial banking for People's United Bank.
Competition is, and will remain, keen for these new entrants who will have to offer exceptionally low rates to compete with leaders like Investors Bank.
"We were fortunate to begin financing multifamily apartment buildings back in 2008 before it became the lending choice for many banks," said Domenick Cama, senior executive vice president and COO of Investors Bank. "While it's true the combination of lower rates and more competitors has driven down spreads, we remain committed to this business."
Astoria Federal Savings and Loan Association
,
Astoria Financial
,
Beech Street Capital
,
Cantor Commercial Real Estate
,
Deutsche Bank
,
Domenick Cama
,
Freddie Mac
,
Goldman Sachs
,
Investors Bank
,
J.P. Morgan Chase
,
James Carpenter
,
Jamie Woodwell
,
Jason Pendergist
,
John Costa
,
Ladder Capital
,
Massey Knakal Realty Services
,
Mercantil Commercebank
,
Mike Edelman
,
New York Community Bank
,
Paulo Garcia
,
People's United Bank
,
Provident Bank
,
Robert Knakal
,
Signature Bank