Archdiocese of New York Closes Righteous Deal with NYU
---
---
Three years after having sold to New York University for $25 million the vacant area of its former Catholic Center at NYU, the Archdiocese of New York has bought back a section of the new building just completed on that same lot for $10 million.
It may or may not be God's will, but overall, the Archdiocese has reported a $15 million profit, leaving to NYU the burden of the construction and has just celebrated the opening of a new 10,000-square-foot center on Washington Square Park South.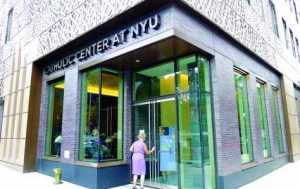 Among the largest owners of real estate in Manhattan, the Archdiocese, along with NYU, has now brought full circle their agreement on the property at 58 Washington Square South. After having demolished its Catholic Center at New York University, the Archdiocese sold the remaining vacant lot for $25 million in 2009. In the deed the buyer and the seller agreed to maintain a Roman Catholic Church on the premises.
As part of its ongoing expansion plans, NYU has built a five-story, 92,000-square-foot building designated to be home of NYU's Center for Academic and Spiritual Life. Last May, the center was completed with spaces for religious observance, offices for NYU's Chaplains' Circle, classes and conference space.
A portion of the building has been set aside for the Catholic presence, with its own separate entrance on Thompson Street. An NYU spokesperson confirmed that the Archdiocese has just bought back this space for $10 million. The center features a chapel, a lecture hall for 200 people, a meeting room, a common room, a confessional room, a kitchen and other amenities.
The center, which was officially opened with a mass and a dedication ceremony presided over by the Archbishop of New York Cardinal Timothy Dolan, has been dedicated to Cardinal Edward Egan.
apirolo@observer.com