60 Wall Street Hits the Market for the First Time… Well, Ever
---
---
For years 60 Wall Street was the cloistered home of institutional giants.
JP Morgan Chase built the tower in the late 1980s and occupied it through the 1990s. Then in the early 2000s Deutsche Bank acquired the building and it too filled the property's entire 1.6 million square feet with its operations.
Because of its function solely as a large headquarters space to single users since its inception, 60 Wall Street has been a building unfamiliar to tenants and leasing brokers.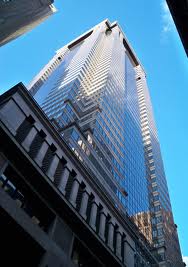 "I really don't know much about the building," ceded one veteran Downtown dealmaker polled by The Commercial Observer.
Now that is about to change. Paramount Group, the 50-story building's owner, is marketing a block of floors at the tower that Deutsche Bank recently opted to hand back. The space, floors 21 through 24, totals about 130,000 square feet and is being touted by the company and its leasing agents, a team from the services firm Cushman & Wakefield, as the best office space on a fabled block that in recent years has been largely converted over to residential offerings.
"There's a lot of vacancies out there," Andrew Peretz, an executive at C&W said, listing 180 maiden Lane, One New York Plaza and the World Financial Center as competing availabilities in Lower Manhattan. "We have a few things they don't. We are a Wall Street address, which is something that I think has a good connotation to it."
"There are not many buildings on Wall Street anymore," Mr. Peretz added, rattling off the long list of properties that had been redeveloped into condos in recent years.
Mr. Peretz, who specializes in the Downtown office market, is handling the leasing assignment with Bruce Mosler, chairman of global brokerage at C&W. Asking rents for the space at 60 Wall Street are in the low $50s per square foot, not an insignificant price for the area, especially amid the wash of space.
The Downtown office market like other areas of the city such as Midtown, has had large lingering vacancies in recent months that have been slow to fill as the pace of big leasing deals has remained lethargic. The World Financial Center for instance has more than three million square feet available and has been aggressively shopping the space to prospective takers while proceeding with a bold plan to remake the complex's extensive retail. The World Trade Center also will cast millions of square feet of commercial office space on the market.
Mr. Mosler and Mr. Peretz feel that 60 Wall Street will fair well against all the competition.
"This is actually one of the newest buildings Downtown, it was built more recently than the World Financial Center and it is outfitted with institutional caliber infrastructure fit for a variety of tenants, including companies from the financial services sector or law firms,"Mr. Mosler said. "But at the same time, I don't think that the kind of tenant that is going to the World Trade Center is who will look at this space."
Mr. Mosler said the space offered prospective takers an interesting proposition; the chance to have an outsized presence in such a substantial property. A tenant that would take the entire block would be the only other name on the building's tenant roster beside Deutsche Bank.
"It's not like you're going to be one among a long list names in a big building," Mr. Mosler said. "This building offers the unique feeling of having an identity. It could be Deutsche Bank and only one other tenant."
Paramount Group bought 60 Wall Street from Deutsche Bank in 2007 for $1.2 billion. As part of that deal Deutsche Bank agreed to continue to occupy the entirety of the building, but its lease gave it options to downsize, a clause it chose to exercise this summer. The bank has the opportunity to give back more space in five years, although it's not yet clear if it intends to do so.
The floors will give Paramount its first chance to gauge how well 60 Wall Street does in the open market and could provide an indication what kind of tenants it will appeal to and rents it will be able to yield.
Peter Brindley, an leasing executive at Paramount who along with Ted Koltis, the company's director of leasing, is working with the C&W team to fill the space, saw the property as a potential spot for tech firms who have been pushed out of Midtown South. Tech companies and creative tenants so far have generally preferred classic loft and former manufacturing buildings over Class A offices. For those requiring amenities that 60 Wall Street offers, including built-in raised floors that allow substantial computer systems to more conveniently be installed, the building would be a draw, Mr. Brindley said.