EQT Partners Opens First New York City Office
---
---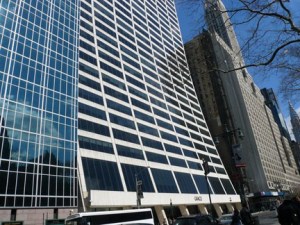 One of Europe's leading private equity groups, EQT Partners, is set to move their New York office to the Grace Building.
Previously operating out of downtown White Plains, EQT will make the move to Brookfield (BN)'s 1114 Avenue of the Americas. The firm will take a 9,100-square-foot office on the 38th floor of the building. The long-term lease was set for ten years.
"The location of the Grace building is extremely convenient for EQT's customers, advisors and employees,"  said Budd Wiesenberg, a vice president of CBRE (CBRE), about the motivation behind the move. "And, the accessibility to Grand Central Terminal and the tremendous spanning views of the cityscape & Bryant Park from the 38th were an added plus."
Mr. Wiesenberg was joined by colleagues Michael Movshovich and Richard Charles in representing the tenant in the transaction. In-house broker and vice president of leasing, Sarah Pontius, represented Brookfield Office Properties.
The asking rent for the building was $95 per square foot.
Known for its curved vertical facade, 1114 Avenue of the Avenue was designed by Gordon Bunshaft of Skidmore, Owings & Merrill and constructed by specialty chemical firm W.R. Grace & Co. in 1974. Sitting on 100×440 square foot lot, the building scales over fifty stories and over 1,500,000 rentable square feet.
The building has undergone renovations in the early 2000s as well as recently in which Brookfield Properties selected Caio Fonseca to create two murals for the renovated lobby. The two murals, permanently on display, can be seen from the street as an extension of Brookfield's commitment to public art.
The Grace Building is home to notable tenants such as Baker & McKenzie, Cooley Godward Kronish, HBO, and the Interpublic Group.
1114 Avenue Of The Americas
,
1114 Sixth Avenue
,
Budd Wiesenberg
,
caio fonseca
,
eqt partners
,
Gordon Bunshaft
,
michael movshovich
,
richard charles
,
Sarah Pontius
,
skidmore owings merrill
,
W.R. Grace Building
,
Brookfield
,
CBRE