Toppan Vite Inks 21K at 747 Third Avenue
---
---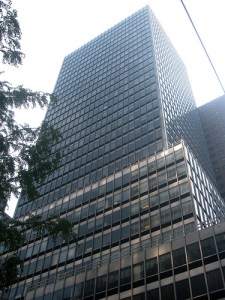 Toppan Vite has inked a lease deal at 747 Third Avenue, following their parent company Toppan Printing Company America Inc.'s relocation to the building from 650 Fifth Avenue.
The printing and publishing firm will be taking 20,792 square feet in the Class A commercial office building. The office spans a portion of the sixth floor and the entire seventh floor with access to the terrace.
"[Toppan Vite] was attracted to the building because of its boutique nature and newly renovated lobby as well as the 24/7 HVAC offered to building tenants," said Alexis Tener, a vice president of Jones Lang LaSalle who represented the landlord in the deal.
Mrs. Tener was joined by colleagues Frank Doyle and Cynthia Wasserberger as well as Michael Lenchner of Sage Realty Corporation in representing the landlords, the William Kaufman Organization and the Travelers Companies. Alex Chudnoff and Dan Turkewitz of Jones Lang LaSalle represented Toppan Vite.
The lease was set for ten years.
"747 Third Avenue has undergone a large scale renovation of the lobby, but ownership also plans to renovate the exterior plaza and the building elevator cabs," Mrs. Tener further noted.
The new lobby features etched granite floorings, nautical themed ceilings and a state-of-the-art visitor access system and security turnstiles. The renovations are a part of the William Kaufman Organization's efforts and beliefs in "transforming the impersonal building into a personable one."
Availability remains on various partial floors throughout the building ranging from 2,500 to 13,100 square feet.
mewing@observer.com