Sygrove Has Designs on Soho
---
---
Interior decorators Sygrove Associates Design Group has found themselves a new space to decorate after they inked a 10-year deal at 594 Broadway in Soho, The Commercial Observer has learned.
Sygrove Associates, which had been at 448 West 51st Street for a number of years since launching in 1982, will be taking a 1,228 square foot office space inside the 12-story building.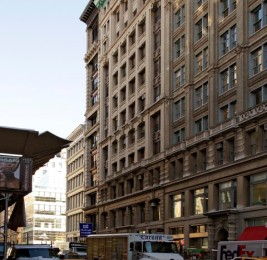 Daniel Lolai of Murray Hill Properties represented Sygrove Associates in the lease transaction. Donna Vogel of Newmark Grubb Knight Frank represented Newmark & Company Real Estate Newmark Holdings, the owners of 594 Broadway.
Asking rent was $53-a-square-foot.
"The fact that the company got great light was a big factor for them for such a small space," said Mr. Lolai.
The company, which specializes in lobby and hallway design and other specialties, had grown steadily for the past 30 years and wanted to commit long term to a space with an ideal location, he added.
"The reason for them moving in is that it's a very tight market out there," said Mr. Lolai. "For a space like this, you can count on your fingers the number of spaces that are out there in the market," said Mr. Lolai.
drosen@observer.com