Operative Media Takes 30,720 SF at Himmel + Meringoff's 6 East 32nd Street
---
---
Tech company Operative Media, which provides digital advertising business solutions, has signed for 30,720 square feet of space at Himmel + Meringoff Properties' 6 East 32nd Street. The company signed an eight-year lease at the 173,600-square-foot building and will relocate from its current space at 40 West 25th Street.
Jones Lang LaSalle's Jim Wenk and Ryan Masiello represented the tenant, while Mark Stein and Jason Vacker represented the landlord in-house.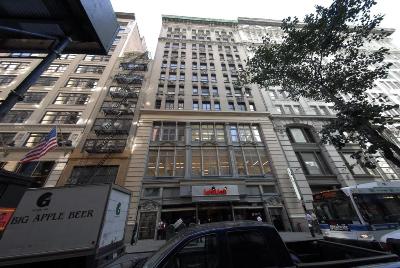 Mr. Wenk said that Operative Media is expanding, yet wanted to stay near its current office.
"The company preferred 6 East 32nd Street, as it was an ideal location for its employees, given the building's close proximity to mass transportation," Mr. Wenk said. "Operative Media's new space offered dramatic ceiling heights and an efficient floor plan that will foster increased collaboration as well as accommodate its rapid growth plans."
The lease will give the company the entire second floor of the building when it moves. A spokesperson for the company confirmed the planned move to The Commercial Observer in an email. "Operative is moving from 40 West 25th Street into larger space at 6 East 32nd Street," the email read. "Operative's business has experienced significant growth over the past few years and with the move to a bigger space, we are making room for continued expansion."
Other tenants at the building include Japanese restaurant IchiUmi, which occupies the ground floor retail space, and interactive branding company AgentOf.
cgaines@observer.com
40 West 25th Street
,
6 East 32nd Street
,
AgentOf
,
Himmel + Meringoff Properties
,
IchiUmi
,
Jason Vacker
,
Jim Wenk
,
Jones Lang LaSalle
,
Mark Stein
,
Operative Media
,
Ryan Masiello