Media3 Eschews Midtown South for Grand Central's 535 Fifth Avenue
---
---
Media3, a tech company that offers facilities for global broadcasters and their on-air guests, has signed a 7-year lease for a 7,300 square foot space at 535 Fifth Avenue, The Commercial Observer has learned.
The company will be taking the entire 13th floor at the 36-story class A office building.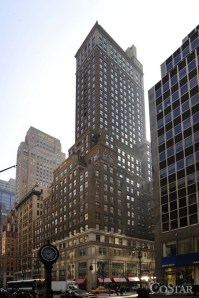 Andrew Sachs, Ben Shapiro, Jonathan Fales and Myles Fennon, all of Cushman & Wakefield, represented The Moinian Group, the owner of 535 Fifth Avenue, in the deal. Media3 had no outside representation in the lease negotiation.
Asking rent for the space was $56-per-square-foot. 
In an interview with The Commercial Observer, Mr. Sachs believed Media3's lease is a sign that tech tenants are realizing "there's better value in Grand Central."
"While it may not be as hip and cool as going to Shake Shack [in Madison Square Park] for lunch, there's just tremendous opportunity and value in Midtown proper," he added. "Literally around the corner you have Twitter and Facebook," said Mr. Sachs. Twitter has an 11,119 square foot office at 340 Madison Avenue, while Facebook has a 40,220 square foot office at 335 Madison Avenue.
Earlier this spring, FiftyOne ECommerce leased a 17,148 square foot at 292 Madison Avenue, a neighboring building owned by the Marciano Investment Group that is also trying to lure tech tenants away from Midtown South.
At 535 Fifth Avenue, Media3 will have its own floor, a "terrific terrace", and a convenient location for their clientele. Media3 had been subleasing the space from Ascent Media. 
535 Fifth Avenue stands right next to 545 Madison Avenue, which is also owned by the Moinian Group. Both buildings offer a combined 533,000 square feet of space.
At 535 Fifth Avenue, Mr. Sachs and co. are marketing a 19,000 square foot space on the third floor that offers high ceilings, exposed brick, and a "cool, lofty feel."
"It was formerly occupied by eMusic, but was recently demolished and whiteboxed," said Mr. Sachs. So far a variety of prospective tenants, from banks to public relations firms, have taken a gander at the space.
Asking rents for that space are $52-a-square-foot. 
drosen@observer.com