Katan Group Sues To Block $180 Million Domino Sugar Factory Deal
---
---
The Katan Group has filed a lawsuit seeking to block the $180 million sale of the Domino Sugar Factory in Williamsburg to the real estate investment and development firm Two Trees.
Katan, an owner of the 11-acre site in a joint venture with CPC Resources, accuses its partner of neglecting superior bids for the $2 billion development project, including offers from the well known New York real estate investor Joe Chetrit, and of not conducting a proper sales process for the site.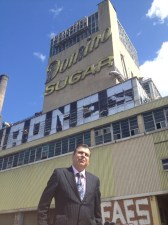 CPCR failed "to engage in a process to maximize value," Katan alleges in its complaint. "Instead, CPCR focused on a low bidder to the exclusion of better offers."
Katan said that Mr. Chetrit was willing to pay as much as Two Trees for the Domino project and that two other firms, Sage Capital and a firm called Heritage, made higher bids of $190 and $200 million respectively.
"[CPCR] ignored at least three other unsolicited offers, all were suprior to CPCR's low bidder," the suit claims.
When CPCR announced in June that it had arranged a deal to sell the Domino site to Two Trees, it originally said that a sales price of $160 million had been arranged. Within weeks, CPCR disclosed that the value of the deal had been raised to $180 million.
In the lawsuit, which was submitted yesterday in State Supreme Court, Katan alleges that Two Trees had only increased its bid to counter Mr. Chetrit's offer of $180 million. By not pitting the different offers against one another, Katan says CPCR refused an opportunity to conduct a proper auction and potentially sweeten the offers even more.
"There is little question that competitive bidding would have raised these offers still higher," the suit states.
The deal with Two Trees was inferior in other ways Katan alleges.
"CPCR has given the low bidder 131 days to close the sale, this extended closing time is against the financial interests of the venture because mortgage interest continues to accrue at the rate of over $1.5 million per month," the suit states. "This closing date is far longer than that of other offers at higher price pionts. the competing $185 million offer would have closed within thirty days."
Another had agreed to close in 20 days, Katan said.
Katan is seeking to nullify the blockbuster sales deal to Two Trees and terminate CPCR's control of the sales process of the site as managing member of its partnership with Katan.