George Comfort & Sons Eyes 75 Rockefeller
---
---
George Comfort & Sons is in talks to buy 75 Rockefeller Plaza, several sources with direct knowledge of the deal told The Commercial Observer.
The price nor the structure of the transaction was immediately available. The billionaire Mohamed Al Fayed, a former owner of the Britain-based department store company House of Frasier, owns the 600,000-square-foot tower and when he put the property on the market at the beginning of the year had wanted to arrange the sale as a leasehold interest.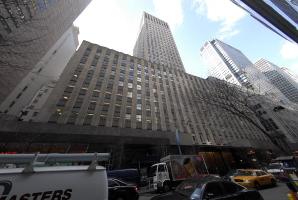 Such a transaction would essentially allow a buyer to rent the entire building for a long term period (many leaseholds stretch 99-years) but would keep ultimate ownership of the building in the hands of Mr. Al Fayed and his family and generate rental income for them. It wasn't clear however if the deal George Comfort & Sons appears close to arranging will be a leasehold or an outright sale.
A person who had been involved in the bidding for the building said there had been wrangling between the buyer and seller, suggesting that the arrangement Mr. Al Fayed had originally wanted may not be what is ultimately agreed upon.
75 Rockefeller Plaza had been marketed for months by a team from Cushman & Wakefield, which shopped the property to only a handful of top owners in the city including Vornado, SL Green and Tishman Speyer.
Members of this shortlist chaffed in past months at the slow pace Mr. Al Fayed took in considering offers – what some said was a purposeful
tactic aimed at wringing higher offers from the bidders. These complaints were heaped squarely on Mr. Al Fayed, not his brokers at C&W, who weren't given the leeway to manage the process more efficiently, these people said.
George Comfort's potential deal comes as the firm has finally put Worldwide Plaza, a nearly two million-square-foot office building it
owns on Eighth Avenue, on the market for sale. The timing of the two deals has sparked speculation whether the firm will try to arrange a
1031 exchange that would allow it to transfer proceeds from the Worldwide Plaza sale into the acquisition of 75 Rockefeller Plaza
without having to pay hefty capital gains taxes in the process.
None involved in the deal could be reached for comment.
Sources have estimated that 75 Rockefeller Plaza could sell for $500 million or more.