Cecil B. Sold: Famed Brown Derby Building Sells For $9.25 million
---
---
The "Brown Derby Building," a retail-slash-restaurant building on Los Feliz Blvd. in Los Angeles, has sold for $9.25 million.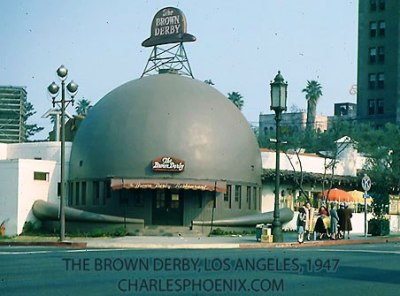 The 14,000 square foot building that at one point was owned by epic filmmaker Cecil B. DeMille was snapped up by CMC Asset Management LLC. 
The building was sold by a group of investors that include Duncan Lemmon of Lee's West LA, John Battle of LA North/Ventura Inc., and Mike Adler and Rick Gable of Adler Realty Investments.
The previous ownership group originally planned to build a mixed-use development. Those plans were scrapped after the building was named a historical monument. 
"Once it was apparent we were not going to be able to redevelop the site into a major mixed-use project we redirected our efforts to determine how we could create some value with the existing property," said Mr. Battle in a statement.
The former owners replaced the Derby Nightclub with a Chase bank branch and spent $2 million to refurbish the building prior to its sale.  The restaurant portion of the property is still available for lease, a spokeswoman said.
Located on 4500 Los Feliz Blvd., the building was once the site of one of the four original Brown Derby restaurants, known for its distinct domed shape and celebrity clientele.  It was where Clark Gable proposed to Carole Lombard (she said yes) and where dishes like Cobb Salad and Grapefruit Cake were born, according to the restaurant's website.
Mr. Lemmon and Mr. Battle represented Hillhurst/Los Feliz, LLC. in the transaction.  CMC Asset Management LLC was represented in-house by James Chu.
drosen@observer.com