Brean Murray Subleases 15K S/F From Fortress
---
---
The investment company Brean Murray, Carret & Co. is subleasing space at 1345 Avenue of the Americas from the large private equity firm Fortress Investment Group.
Brean Murray will take nearly 15,000 square feet being offered by Fortress on the 50-story building's 29th floor. Asking rents for the space were in the $70s per square foot and the term of the deal stretches for about four and a half years.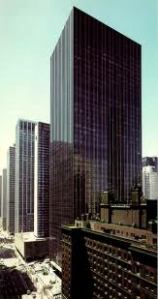 Brean Murray bases its Manhattan operations at 750 Lexington Avenue and is taking the office to expand.
The company was scanning the market for a space where it could install trading operations, particularly offices that had infrastructure for that type of use, such as supplemental air conditioning and the electrical supply needed to cool and power the substantial computer systems that are needed to trade.
Because the space had previously been used by Fortress, a firm that also does electronic trading, it came equipped.
"It can cost as much as $200 to $300 per square foot to build out a trading space," Matthew Astrachan, an executive at Jones Lang LaSalle who represented Brean Murray in the deal, said. "This was a space where all the infrastructure was already there, including furniture."
The deal was a way for Brean Murray also to dip in its toe at 1345 Avenue of the Americas. Mr. Astrachan said the company has about 38,000 square feet at 570 Lexington Avenue and would consider moving those facilities to consolidate at 1345 Avenue of the Americas so long as it can successfully sublet its existing space, which Mr. Astrachan is currently at work marketing.
"We prefered to do the deal incrementally," Mr. Astrachan said, noting that leasing a bigger office in which the company could both relocate and expand in one fell swoop would have subjected it to the risks of the sublease market. Midtown dealmaking has been slow in recent months, making sublease space harder to fill. Brean Murray has about four and a half years left on its deal at 570 Lexington Avenue and could wait out its expiration there if necessary before going out to market in search of a bigger office. If it does find a taker however, there are several options to bring its operations to 1345 Avenue of the Americas.
According to Mr. Astrachan, a number of tenants are offering space for sublease in the two million-square-foot tower, including Allianz, Alliance Bernstein and Avon.
Howard Grufferman, a former broker at Grubb & Ellis, represented Fortress in the sublease.