Jones Jones Renews and Expands at 5 Hanover Square
---
---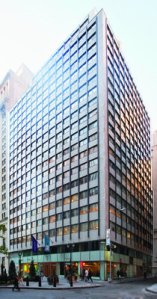 The defense law firm Jones Jones has doubled its space at 5 Hanover Square.
The firm initially moved into Savanna's building last August, taking 4,985 fee,t and has negotiated a deal to increase its space in a 9,215-square-foot custom office on the 10th floor.
"The space was recently constructed with views of Hanover Park and consists of a combination of private offices and open area where the firm intends to install workstations," said Todd Korren, a principal at Savanna.
"The law firm has experienced internal growth," Mr. Korren added. "Although most of the reason for the doubling of its space has to do with an expansion of the services which it provides to its clients."
Mr. Korren represented both the landlord and the tenant in the transaction. The lease was set for an extended ten year term.
Jones Jones was initially founded in 1947 by the first secretary of the Workers' Compensation Board and specializes in representing employers and insurance careers in disputes. The firm, though centered in Manhattan, serves clients throughout the five boroughs, as far east as Riverhead, and as north as Poughkeepsie and Monticello. Its impressive client list includes Apple, Disney, Walmart, and Xerox.
Since Savanna acquired 5 Hanover Square in the fall of 2010, the building has undergone a capital improvement plan and a new marketing campaign. The 25-story, 350,000 square foot building continues to attract a wide array of tenants in the legal, finance, and investment industries.