The British Invasion: CWM NY's Simon Gibbs on the Next Big Retailer
---
---
Simon Gibbs is a partner at CWM New York—the U.S. outpost of London's CWM, which provides consultancy services for retail clients looking for space. On the other side of the pond, the firm represents, among others, Diesel, Hugo Boss, AllSaints, True Religion, and Kate and Jack Spade. Mr. Gibbs is tasked with translating the CWM model in the States and helping to bring European retailers to our shores. On the heels of a successful lease for U.K. sushi chain Wasabi at 561 Seventh Avenue, he spoke to The Commercial Observer about the challenges of familiarizing foreign retailers with the New York market and why "consultancy" is a better fit for what the firm provides than "brokerage."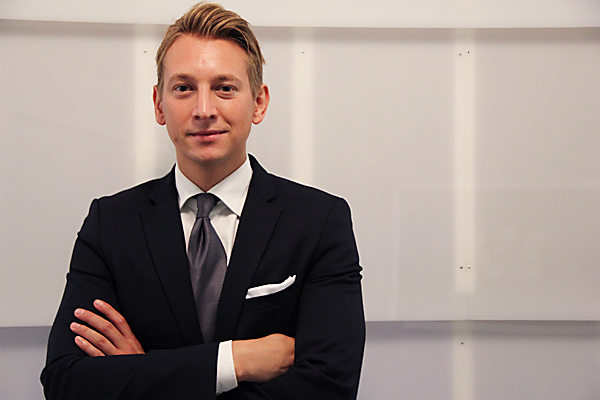 The Commercial Observer: Can you tell me what CWM's focus is in the U.K.? What do you tend to work on there?
Mr. Gibbs: In the U.K. we're around about 40 members of staff right now. We only do retail. We act on behalf of large landlords in Central London, in Covent Garden and Brompton Road in Knightsbridge, and we also advise about 70 retailers that include Diesel, Hugo Boss, All Saints, and Kate and Jack Spade.
How long had you all been thinking about opening up a New York office?
We'd been thinking about opening a New York office for a number of years but we couldn't find anyone to head it up. I had joined CWM in 2005 as a graduate [junior advisor], when we had quite a small team, and as the business grew I was the graduate to the CEO, Scott Murdoch, and after seven years working with him, it was a natural step for me to come over and open up the CWM New York office. I knew the business model inside out from London, and it was a case of coming over to the States and trying to implement that same British level of advice over in the U.S.
What clients do you currently represent in their search for space here in New York City?
We've got brands ranging from beauty retailers to high-end fashion and home wear. I'm working with about 20 brands. Some of them include Neal's Yard Remedies, ToyWatch and Irregular Choice. We're doing Wasabi, which is kind of a premium sushi chain.
We wrote about that Wasabi deal. Are they looking for other space throughout the country or are they looking to stay in New York?
They'll be looking for more space in New York once they get it open and operating. There's also a luxury retailer called N.Peal, which is luxury cashmere. We're looking on Madison Avenue for them.
You mention Madison Avenue. What parts of the city are most attractive for your clients?
The most attractive areas of the city seem to be at the moment either Madison Avenue, for the more luxury retailers, or Soho, really for either middle- to high-end—even some of the luxury brands are looking there now, with Greene Street really taking off in the last six months with Tiffany's and Stella McCartney. Even some of the side streets in Soho have become popular.
Is there more room in one of those areas than the other? There's not a lot of room in either, right?
There's not a lot of room. There's still product available on Madison Avenue, but the rents are very high at the moment. It's easiest probably to find space on Madison, but you've got to make sure that you can do the numbers. The rents are up over $1,000 a square foot.
In general, how did you familiarize yourself with the market here?
I know New York well—I'd visited a number of times and CWM as a company every year sends the whole company to a different retail market and we'd actually been sent to New York twice before. So it's a city that I had a bit of a love for even before I came over. But in terms of how we got the ball rolling, I very much knew the CWM model and we employed an ex-Robert Futterman chap, who came on board to help implement and put all the systems in place to ensure that we could offer the same level of advice as we do in the U.K. That meant meetings with landlords, it meant speaking to a lot of our existing retailers about sales volumes. We really had to find out who was best in class in lawyers, accountants, PR firms, construction experts. We look at ourselves as consultants as opposed to brokers. "Broker" is something we try to stay away from.
Why is that? Why do you shy away from the label of broker?
Broker is defined as a person or a party that arranges a transaction between a buyer and a seller. That's just scratching the surface of what we do. Whenever we're working with a retailer, we need to get to know that business at its core. All of our retailers we spend time with, we spend a lot of time with the individuals at the head office understanding the brand. Then also pulling together all of the components if they're moving into a new market.
What are some of the main differences between the way that retail operates here and in London, in terms of the technical stuff?
There are a number of things that do translate from Europe to the U.S. in terms of leases, but there are a number of other things that don't. Real estate tax in the U.S. is much lower than in the U.K., which can affect ultimately the retailer's decision process. There's definitely a difference in terms of taxes and the way that the lease structures are in the U.K. in that the leases are secured inside what's called the Landlord and Tenant Act. In the U.S. at the end of the term, unless an extension was agreed to at the outset, the landlord really holds the power as to whether that tenant can stay or not. Which differs slightly from in the U.K., where there is something called Security of Tenure for retailers when taking spaces. And understanding the intricacies of deposits, key factors such as Good Guy Guarantees and the ways that property is valued. It's valued differently in the U.S.—it's valued on an overall square footage, compared to in the U.K., where retail property is valued using a zoning method approach.
For most of the clients, is New York the destination or is it an entry point for expanding to other parts of the country?
It seems to work both ways. London and New York seem to be very good entry points into both Europe and the U.S. You'll see the majority of the U.S. brands that will go and open their first store in London and then have their rollout across the rest of Europe. Similarly European brands coming over who want presence in the States really look to open in New York first.
Any up and coming retail area in the city that you see emerging soon?
The Flatiron [district] has really become one of the hottest talking points in the city, which European brands don't necessarily see as their first store when coming. Usually they would be looking at areas like Madison, Meatpacking, the West Village or Soho ,when actually for some of our existing clients the Flatiron is performing some of the best out of the whole city. Rents are in the process of catching up, but that probably is one of the best areas in terms of emerging retail.
Do you anticipate growing and bringing more consultants on board?
Yeah, we'll organically grow with the speed of the clients coming over. At the moment we feel we give personal enough service. When we feel we're not giving the level of service that each and every clients needs, we'll organically bring on new brokers. There's the possibility of an L.A. office in the future, as well as a big push for CWM globally. We've had demand for Hong Kong, to come to China and those markets, and the plan is in place to open that in 2014.