One World Trade Center Clinches GSA Lease
---
---
The U.S. General Services Administration has signed a 20-year lease for six floor and 270,000 square feet at One World Trade Center, the Port Authority of New York and New Jersey announced this morning.
The GSA, which oversees and manages U.S. Government offices, now joins Condé Nast and Vantone China as tenants in what is expected to be "the tallest building in the Western Hemisphere" once it finishes construction and begins occupancy by 2014. Condé Nast is committed to 1.2 million square feet and Vantone China has leased 190,000 square feet in the building already.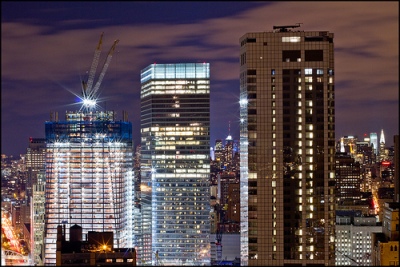 The GSA will take floors 50 through 55 in the 3 million square foot tower, which is now more than 55 percent leased, said the Port Authority.
The announcement comes after months of perceived reluctance on part of the GSA to sign the deal at One World Trade Center. The GSA appeared to be taking its time after it signed a term sheet for the space in 2011 (and started negotiating for the space five years ago). Senator Charles Schumer (D-NY) chided the GSA for dawdling on the deal, demanding that the federal organization sign the lease by July 4th.
"The signing of this lease marks a major milestone in the success story of the redevelopment of lower Manhattan," said Sen. Schumer in a statement today. "While it took some pushing and some prodding, this lease is finally signed, sealed, and delivered," he added.
David Lipson, an executive vice president and director at Studley's Washington D.C. office, represented GSA in the deal. Representatives from The Durst Organization and the Port Authority worked on the deal in-house.
Mr. Lipson declined to comment when reached by phone.
"It was a complex deal," said Jordan Barowitz, director of external affairs for The Durst Organization, which is co-developing the tower with the Port Authority. The GSA signed the deal yesterday.
Mr. Barowitz would not comment on the asking rent, or would not speculate when the next lease signing is expected to be announced.
A firm asking rent for the deal was "tricky" to hammer down, said a person familiar with the deal.
"It's so complicated because there is an insurance payment involved in it, it's like calculus. But the GSA has to pay market rent," that person added, who asked not to be named.
News of the GSA's deal comes months after then-chief Martha Johnson was forced to resign and (two of her top deputies were placed on leave) following reports that taxpayer money was used on a Las Vegas conference that featured a clown, a psychic, and a $31,208 reception.
Yesterday, the GSA announced it would be scrapping all bonuses for its executives while also imposing a hiring freeze.
drosen@observer.com