Omni New York Buys Nine Bronx Buildings for $33 million
---
---
Nine multifamily buildings in the Longwood section of the Bronx traded June 28 to Omni New York LLC for $33.25 million. Ariel Property Advisors arranged the sale to Omni, which is helmed by managing directors and co-founders Maurice Vaughn and Eugene Schneur and focuses on revitalization and development.
All the apartments in the portfolio are subsidized under HUD's Section 8 program. They'll be preserved as affordable housing, though specific short-term plans for the properties weren't available.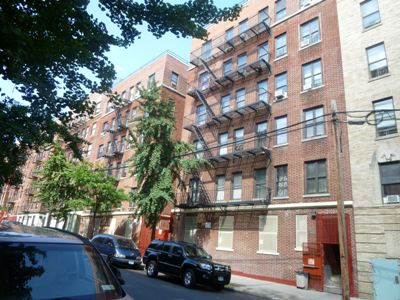 According to its Web site, Omni owns a number of other Bronx Section 8 properties, including Thessalonic Court at 350 St. Anns Avenue and Brookhaven Apartments at 197 Brook Avenue.
"2012 has been a great year for multifamily sales, but few realize how much of this multifamily activity is taking place in the Bronx," Ariel president Shimon Shkury said in a prepared statement. "The Southern Boulevard Portfolio is one of the biggest sales to take place in the Bronx this year and attracted tremendous interest from operators based locally and throughout the country." Mr. Shkury worked on the transaction with Ariel's Victor Sozio, Michael Tortorici and Scot Hirschfield.
The interest he referenced apparently caused the sale to move quickly. Ariel noted that dozens of bids came in within two weeks of the apartments first being marketed. And the sale followed soon after.
There are 371 residential units in the bunch and one commercial space. Units vary in size from studios to four bedrooms. The nine buildings are located at 737 Southern Boulevard, 663 Fox Street, 665 Fox Street, 712 Fox Street, 751 Fox Street, 766 Fox Street, 772-774 Fox Street, 775 Fox Street and 784 Fox Street.
cgaines@observer.com
197 Brook Avenue
,
350 St. Anns Avenue
,
663 Fox Street
,
665 Fox Street
,
712 Fox Street
,
737 Southern Boulevard
,
751 Fox Street
,
766 Fox Street
,
772-774 Fox Street
,
775 Fox Street
,
784 Fox Street
,
Ariel Property Advisors
,
Brookhaven Apartments
,
Eugene Schneur
,
HUD
,
Maurice Vaughn
,
Michael Tortorici
,
Omni New York
,
Scot Hirschfield.
,
Shimon Shkury
,
Thessalonic Court
,
Victor Sozio