New Terms for SL Green and Sutton 717 Fifth Avenue Retail Condo
---
---
SL Green Realty Corp. said Wednesday that it had, along with partner Jeff Sutton, restructured and recapped the retail condo at 717 Fifth Avenue, home of Dolce & Gabbana, Armani  and Escada.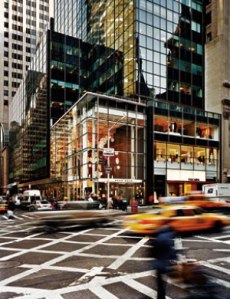 The REIT bought an interest in the 123,000-square-foot, four-floor property in 2006 for about $230 million. In this most recent transaction, it sold 50 percent of its interest there to Mr. Sutton, retaining a 10.92 percent stake. The price of that sale values the retail at 717 Fifth at $618 million.
Additionally, the property was recapped via $590 million in new financing. New York Life and TIAA-CREF provided a $300 million fixed-rate mortgage for a 10-year term, while RREEF originated a $290 million mezzanine loan for a 12-year term.
"Our joint venture investment with Jeff Sutton at 717 Fifth Avenue has been a resounding success, as evidenced by the realization of net operating income through creative repositioning and leasing over the past six years," said SL Green president Andrew Mathias. "The result is a sizable gain in asset value, as recognized by our lenders, as well as our ability to monetize a portion of our position and generate substantial cash proceeds."
The net proceeds for SL Green that resulted from the transaction were $85 million.
cgaines@observer.com