LJAF Opens Office in New York
---
---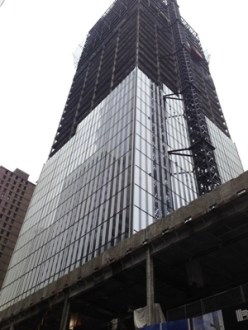 The Laura and John Arnold Foundation, a Houston-based nonprofit, is set to open an office in New York in September.
Forbes-listed billionaire John Arnold established the foundation to support criminal justice, education, and public accountability. Their latest work includes the ERIN Project, a powerful tool that analyzes K-12 education in the United States.
LJAF has signed a lease for 3,423 square foot lease on the 18th floor of W&H Properties's 250 West 57th Street.
"Our pre-builts are perfect for organizations such as LJAF, which seek a prestigious, environment with no build-out required," said Anthony Malkin, a president of W&H Properties's supervisory firm, Malkin Holdings LLC, in a press release. "The suites also have wide appeal because of their efficient layouts and high-end furnishings, and the energy savings they offer."
"250 West 57th Street also has significant appeal because of its location near Columbus Circle and Central Park, with direct subway station access – in a neighborhood that is the new home of such entities as Young & Rubicam and Open Society Foundations (formerly Soros Foundation)," Mr. Malkin added.
A team from Cushman and Wakefield consisting of Harry Blair, Sean Kearns and Kelli Mekles exclusively lease the building for W&H Properties. Erik Harris and Aaron Maltz of Newmark Grubb Knight Frank represented the tenant and could not be reached for contact.
Sitting between Broadway and Eighth Avenue, 250 West 57th Street is a 26-story 536,000-square-foot property with floor plates that range from 9,200 to 27,000 square feet. The building was initially built in 1921 by Carrere & Hastings, known for designing Beaux-Arts works around the world including the New York Public Library.
The property is one of many in W&H's portfolio in Midtown Manhattan, joining 1350 Broadway, One Grand Central Place, 1400 Broadway, and the Empire State Building.