In Move That Will Greatly Magnify City's Role in Genetic Sequencing, New York Genome Center Inks 150,000-Square-Foot Deal on 6th Avenue
---
---
The New York Genome Center has completed a deal to take 150,000 square feet at 101 Avenue of the Americas, sources involved in the transaction have revealed to The Commercial Observer.
The center, which was founded through a partnership of several large medical and academic institutions, will be a biotech, data storage and genetic sequencing facility.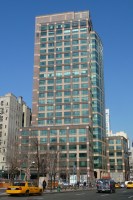 Columbia University, North Shore-LIJ Health System, New York University/NYU School of Medicine,  Mount Sinai Medical Center and Cornell University/Weill Cornell Medical College are among the backers of the venture, which will seek to do genetic and biotech research on a scale and level of sophistication previously absent in New York City.
According to reports, the facility will be funded by the institutions and also public money, including from the city, which has sought to build the bio-science industry in the city as a way to broaden its industry and tenant base.
A person with knowledge of the Genome Center said that its space at 101 Avenue of the Americas will house 130 genetic sequencing machines, infrastructure that will cost tens of millions of dollars to install and will create the largest facility of its kind in the New York region. Much sequencing work is outsourced to China in fact because of the lack of local sequencing operations.
The deal is an important grab for Edward Minskoff, the landlord of 101 Avenue of the Americas, who is investing millions to renovate the property in order to make it attractive to potential takers. A large block of space opened in the building last year when SEIU Local 32BJ, a large union that represents building workers, left the property to relocate to 620 Avenue of the Americas.
Reached by telephone in his office, Mr. Minskoff said he could not comment on the deal with Genome.
Mr. Minskoff is also in the process of erecting 51 Astor Place, a roughly 400,000-square-foot speculative office building south of Union Square in the booming Midtown South office district.