Blackstone: The Godfather of Private Equity/Real Estate?
---
---
Music fans (of a certain vintage) might remember the late James Brown's famous stage bit when, as his back-up band played "Please, Please, Please,"  he would appear to be shuffling his way off the stage while his personal MC (the devoted Danny Ray, who played the role for 30 years) covered him in a cape.
Then, in a sudden reversal of energy, Mr. Brown would throw off the cape and return to the mic to give his fans an encore's worth of songs.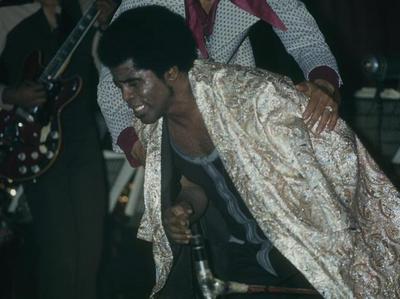 The Commercial Observer was reminded of Mr. Brown's famous bit upon reading the news that Blackstone, the private equity giant that just weeks ago was reportedly planning to shed its massive office portfolio, had received a $500 million investment from China's  currency-reserves manager for a Blackstone real estate fund.
The firm, co-founded by Stephen Schwarzman, had made overtures to investors, analysts and the press that it would eventually be selling off the fund that oversees its ample office portfolio–which includes over 100 buildings–for an equally-as-ample profit.
In February,  Mr. Schwarzman told analysts during a conference that "when we [Blackstone] exit the real estate, my expectation is that we will really crush it and we will really do extremely well."
But since that announcement, Blackstone and its affiliates have appeared to be fortifying, not diminishing, its real estate positions. In June, a Blackstone real estate fund snapped up an industrial portfolio for $2.1 billion (for which it then secured a $575 million loan from GE Capital Real Estate).
Blackstone has raised $12 billion for its latest real estate fund, the same fund that China's State Administration of Foreign Exchange invested half-a-billion in, and hopes to raise as much as $13.3 billion before the year's close. In doing so, it will prove to be the most raised by a real estate fund of this kind in its history, according to The Wall Street Journal.
Blackstone's funds have 7-to-10 year vehicles that sometimes have the flexibility to sell at an optimum period in the market.
One such fund, which purchased Equity Office Properties from Sam Zell for $20 billion in 2007, will be sold off.
"When you're talking about a portfolio of that size, it takes two years to get something like that done in an environment," said Dan Fasulo, a managing director at Real Capital Analytics.
As Blackstone cashes out one of its funds, it always returns with a stronger one.
"They've done an awesome job over the last couple of years of really finding places where there was dislocation and they can add value just by using the massive value of capital they have," said Mr. Fasulo.
"Time after time in this cycle they've been able to inject themselves into portfolios where there was little liquidity and where they could get tremendous yields and potential returns. It's hard to think of another investor that's been more successful taking advantage of the dislocation over the last few years," he added.
A Blackstone spokesperson did not respond to a request for comment.
The investment made by China's State Administration of Foreign Exchange, a division of its central bank, is not the first time China has made a significant contribution to a Blackstone fund. In 2007, the Chinese Investment Company (CIC) made a $3 billion nonvoting investment  in the publicly-traded Blackstone.
drosen@observer.com