Related Companies, Larry Silverstein Also Bidding on Domino
---
---
The Community Preservation Organization announced Monday it had entered negotiations to sell the Domino Sugar Factory to the residential development and investment firm Two Trees for over $160 million.
"The deal with Two Trees is currently in its preliminary stages," Raphael Cestero said in a statement released this afternoon by CPC. "Our goal is to find a partner who will develop Domino into the mixed-income, mixed-use community it was intended to be and to find a deal that works for CPC and all our various stakeholders."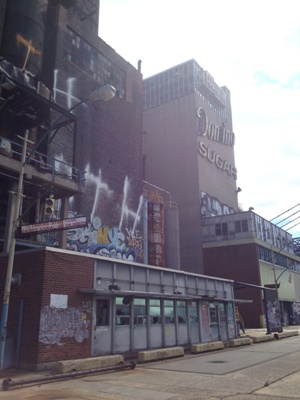 The deal would also allow CPC to unburden itself from a $2 billion mixed use development project that only weeks ago had appeared to have become a disastrous undertaking for the company, which has been criticized in recent months for stepping beyond its original mission of financing affordable housing.
"With this sale, CPC will be able to return to its core mission as a lender providing badly needed capital to support affordable housing development and strengthen neighborhoods throughout the City and State," Mr. Cestero's statement read.
Isaac Katan, a developer who owns the site in a fifty-fifty joint venture with CPC and who has opposed the non-profit group's attempts to recapitalize and sell the project, criticized the sale, which he put at $165 million, on the basis that it would only allow his company Katan Group and CPC to break even on their investment in the project.
"We wouldn't make any money on this deal," Mr. Katan said, pointing out the fact that the partnership has worked for years on the development and that it paid about $55 million to acquire the site.
Mr. Katan has accused CPC of cutting him out of decision making at the property, mismanagement and profligate spending that he said piled on tremendous and unnecessary debts.
Mr. Katan's lawyer, Y. David Scharff said in an emailed statement to The Commercial Observer that "CPC is undervaluing the asset yet again" in the deal with Two Trees by as much as $35 million.
"We cannot fathom why CPC refuses to extract value from this project," Mr. Scharff's statement said.
CPC has denied Mr. Katan's accusations, citing that the costs it incurred were typical for such a large scale project and that the deals it has been able to structure are the most lucrative options for the partnership.
CPC drew up plans for at least four large residential towers and significant affordable housing at the site in pushing the project through a tricky review process with the city that was necessary to alter its zoning. The project stalled however during the economic downturn, which brought Williamsburg's condo market crashing down. The area has begun to dramatically recover in recent years however.
Earlier this year, CPC appeared to be preparing to recapitalize the project after it fell into default with its senior lender Pacific Coast Capital Partners. Mr. Katan launched an unsuccessful lawsuit to block that deal.
In recent weeks however, sources familiar with CPC said the company began to receive unsolicited offers from private developers to buy the factory outright. Among those interested in acquiring the site were Larry Silverstein and Stephen Ross.
CPC currently is only negotiating with Two Trees, a developer that won success and attention for buying up former manufacturing and warehouse buildings in DUMBO and redeveloping them into high end residential space, turning the neighborhood into an exclusive high end enclave.
"Two Trees understands waterfront development, is well-capitalized and is the best chance for meeting our vision for Domino," Mr. Cestero said in his statement.
"It's just a good fit for us," Jed Walentas, a principal of Two Trees told The Commercial Observer, adding that "the news is premature" his firm was buying the complex. Both Mr. Walentas and CPC said that they had agreed on a preliminary term sheet for the sale, a non binding agreement.
Given its track record in DUMBO, Two Trees would appear well qualified to build on the Domino site and realize its vast potential as a housing complex with stunning views of Manhattan. Williamsburg is an area that has caught on as a popular residential neighborhood and destination for arts and nightlife. But the site also comes with hurdles. Landmark protections at the sugar factory require that its main buildings, a square structure with the Domino logo on its facade and a behemoth brick property with a towering smokestack, be preserved. Those familiar with the site say that it would likely cost many millions of dollars to renovate and make them habitable. CPC also struck a deal with the city to build 30 percent of the project as affordable housing, a larger than normal percentage that people familiar with the development said cuts into the project's profitability.
The Domino site wouldn't be Two Trees' first foray into Williamsburg. The firm just finished building the new Wythe Hotel.