Todd English, Stephen Starr Rumored As Possible World Financial Food Tenants
---
---
Brookfield (BN) Properties is close to a 30,000-square-foot deal to bring a gourmet food market into the World Financial Center and several sources in the retail brokerage industry say that Todd English and Stephen Starr are among the shortlist of restaurateurs in talks to operate it.
In an exclusive conversation with The Commercial Observer last week, Brookfield executives said they were close to a lease for the market, a large component of a new collection of food tenants the company is seeking to bring to the World Financial Center.
Brookfield would not comment whether Mr. English or Mr. Starr were candidates to run the market, which executives say would offer prepared foods and also counters serving cheese, meat, fish, baked goods and other produce for shoppers to take home.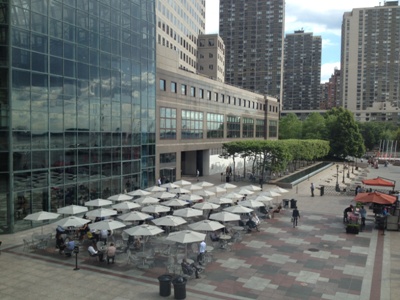 The market would play center-stage in Brookfield's efforts to position the complex's 200,000 square feet of retail space for use not only by office tenants but downtown's growing residential community as well.
"Battery Park City has been fully developed and Lower Manhattan has evolved into a 24/7 neighborhood where people both live and work," Jerry Larkin, Brookfield's director of leasing told The Commercial Observer last week. "And we think the retail in the World Financial Center can be a huge amenity to that population."
Combined with a 600-seat food court of eating stations upstairs that will feature a collection of well-known food purveyors and also fine dining restaurants, Brookfield is also trying to create a culinary nucleus at the World Financial Center that it hopes will siphon vistors from the World Trade Center. By signing a deal for the market as one of the first transactions of note at the complex, Brookfield appears to be aiming to create an attraction akin to Eataly, an Italian themed food store and dining spot in the Flatiron District that became a retail sensation.
Retail experts say the company is also seeking to rebrand the complex's retail space, which it is in the process of spending $250 million to renovate. A successful food tenant may help create a chic image for the property and both draw luxury tenants as well as foot traffic that high end retailers alone might not generate.