Thinkmap Doubles Down at 599 Broadway
---
---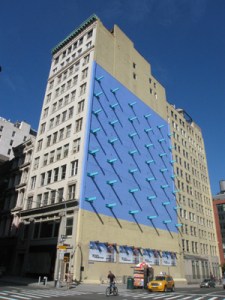 Thinkmap, Inc. will be moving its headquarters to 599 Broadway.
The software platform developer will be moving its base from the Vornado Building, 199 Spring Street, to ABC Properties' 599 Broadway. In an effort to expand, the firm has signed a lease for six years that occupies 4,620 square feet, nearly double the previous office size of 2,800 square feet.
The asking rent for the unit was set at $52 per square foot.
"They have been in the submarket for a while and they love it," said Laurence Roberts, broker on the transaction and principal at Arch Brokerage LTD.
Building management and owner, ABC Properties, was represented by in-house broker Joseph Del Vecchio in the transaction.
The property at 199 Broadway, also known as the Ayer Building, was built in the 1917 and has become a city landmark and iconic destination of the years. The side of the building, which faces Houston Street at the start of Soho, features the well-known public artwork "The Wall." The Wall was built by Forrest Myers in 1973 and consists of 42 aluminum bars and steel braces. The artwork has been the center of a few lawsuits over the years, but the piece remains in place today.
The 12-story, 120,000-square-foot building boosts a strong tenant base with American Eagle Outfitters on the ground floor and Infusion, Aguilar Amplification LLC, and Gulliver's Travel Agency throughout the building. Thinkmap, itself, has received rapid growth over the years developing customized visualization interfaces for complex data sets that fosters understanding and discovery.
The building remains about 87 percent leased with the last 28,600 square feet up for subleases and direct leases.