Marty Markowitz Wants Coney Island Casino
---
---
With New York Governor Andrew Cuomo fixin' to legalize gambling in the Empire State, Brooklyn Borough President Marty Markowitz said that Coney Island, "America's Playground," should be considered as one of the seven non-Indian casino sites throughout the state.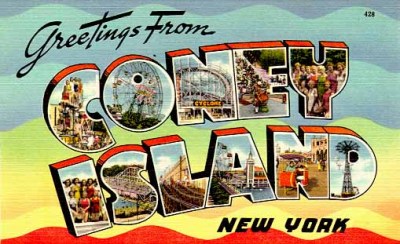 In an op-ed in today's New York Daily News, Mr. Markowitz said that building a casino in Coney Island "fits the bill in every way imaginable."
"The most successful urban casinos are those that are part of a broader entertainment experience, and Coney Island provides it all: world-class beaches, thrilling rides and amusements, a historic Boardwalk, the New York Aquarium, concessions, professional baseball and summer concerts. The area is well served by four subway lines and seven bus routes, providing gamblers with a host of transportation options, including tour buses which can handle a large number of patrons in a single vehicle.
Adding a casino to Coney Island would help add jobs to a job-starved part of Brooklyn –its unemployment rate was twice that of the rest of the city in 2009– and transform it into "the city's premier year–round amusement and seaside entertainment destination."
Coney Island is no stranger to gambling. Brighton Beach and Gravesend were gambling destinations in the 1800s, and the area lobbied New York State to legalize gambling after Atlantic City allowed casino gambling in 1976.
"Even though Governor Carey's Casino Gambling Advisory Panel estimated the creation of 80,000 jobs statewide, the idea went nowhere and casino patrons — and their money — went to New Jersey and Nevada. Atlantic City visitor profile studies indicate that a fourth of all visitors to Atlantic City come from New York State. To keep even a fraction of those patrons and the associated revenue in Brooklyn and our state would be beneficial."
Legalizing casino gambling would have to receive second legislative approval from the state and face a public referendum on the November ballot.
The issue has picked up steam in recent weeks. Talks between Genting and the State to operate the Aqueduct racetrack fell through earlier this month, and the Governor has opened up the floor to let other casino operators vie for the seven sites across New York State.
drosen@observer.com