Majorica Renews Lease at New York Accessories Exchange
---
---
Real estate company Joseph P. Day Realty Corp. announced Majorica, an organic man-made pearl jewelry maker, will renew their lease at the New York Accessories Exchange building (NYAE), located at 366 Fifth Avenue.
Majorica will continue to occupy 4,600 square feet on the fifth floor of the 12-story building, currently 83.6 percent leased, for an undisclosed sum for the next 10 years.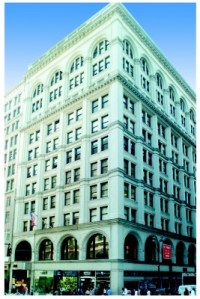 Davidoff Malito & Hutcher LLP represented Majorica in this transaction. Rick Brickell, director of leasing and management at NYAE, represented 366 Fifth Avenue.
"Majorica is a wonderful client. We're pleased that this storied brand initially chose our building and will continue to be a part of the family at 366 Fifth Avenue," said Mr. Brickell  in a prepared statement. "The luxury company is a leader in the production of beautiful pearl jewelry, and has been for more than 100 years. We look forward to our continued relationship."
Majorica has been making organic pearl jewelry from the island of Majorca, Spain since 1890, as Brickell denoted. The man-made pearls are sold in department stores and jewelry stores throughout the United States, Russia and Spain.
The company has leased space at 366 Fifth Avenue since 1989, mere streets away from where the founder of Majorica set foot in the U.S. markets in 1917, according to a statement by Marc-Antoine Breuil, chief executive of Majorica.
The NYAE building with its high, exposed slab ceilings, oversized windows overlooking Fifth Avenue, wooden floors throughout that punctuate the spectacular, and loft-style showrooms is one of the reasons tenants have been flocking to the building in the fashion center of New York. Other notable clients in the building include Fossil, Colors In Optics, Erica Lyons, Isaco International Corp., Amiee Lynn Accessories, Swany, Bueno of California, Shedrain and more.
The Davidoff Malito & Hutcher brokers involved in the deal could not be immediately identified.