Better, Not Bigger: Gordon Ogden Relishes Boutique Life at Byrnam Wood
---
---
Early in Gordon Ogden's career in leasing brokerage, he noticed one of his colleagues had an interesting habit. The broker would slip surreptitiously into Bruce Mosler's office and thumb through a notebook in which Mr. Mosler kept meticulous records of brokerage leads and business he was working on.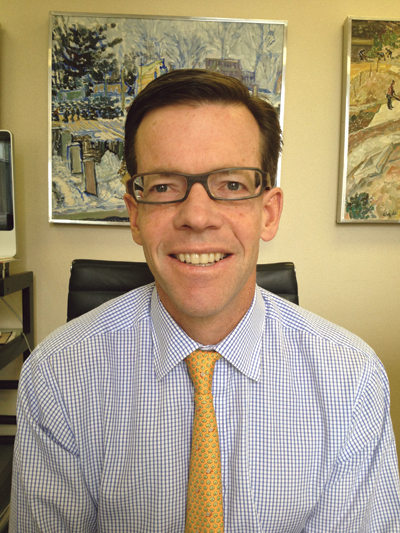 Mr. Mosler, now a top leasing executive at Cushman & Wakefield, was a manager of Mr. Ogden then at the firm Pearce Urstadt and would assign brokers to team with him or other partners to pitch or service the accounts he developed.
In his routine cold calls to canvas tenants to see whether they might be in need of brokerage representation, Mr. Ogden happened to speak with an executive who, he learned, was already a client of the firm.
"He told me very politely that he already worked with a broker at Pearce," Mr. Ogden remembered. It was the very same broker who would sneak into Mr. Mosler's office. Mr. Ogden apologized and told the man he was in good hands and hung up. But he realized the irresistible opportunity for a good prank.
Mr. Mosler by then had caught wind of the broker's behavior and was happy to conspire with Mr. Ogden. The two penciled the company's name into Mr. Mosler's notebook and waited patiently.
"Sure enough the guy snuck into Bruce's office and then came marching straight to my desk," Mr. Ogden said. The broker demanded to know why he was moving in on a client of his. Mr. Ogden and the colleague went to Mr. Mosler's office.
"This is your client?" Mr. Ogden asked.
"Yes!" The broker responded angrily.
"So you know then about the 50,000 square feet the company is going to be leasing in Midtown?" Mr. Ogden asked.
"Sure!"
"And the 30,000 square feet they're going to leave behind that they'll need to sublease?
"Of course!"
"And what about the 70,000 square feet they want for a distribution center in Long Island City?"
"I know about all of it!" The broker exploded, his mouth watering.
"You idiot!" Mr. Mosler intervened, explaining that Mr. Ogden was making the whole thing up.
"So you mean … there are not going to be any deals?" The broker asked, crestfallen.
"He couldn't have cared less that he had just incriminated himself for being a sneak, someone who would pry into other brokers' deals to try to find a way he could get a piece of their business," Mr. Ogden said.
With amusing stories like these, it's easy to excuse Mr. Ogden for losing his taste early on for mainstream brokerage, which at times reminded him uncomfortably of the dark and comical characterizations of the profession depicted in films like Glengarry Glen Ross.
And so, by the late 1990s, Mr. Ogden went to work for Joe Thanhauser, a longtime broker who had started his own boutique firm, Byrnam Wood.
The career move wouldn't put Mr. Ogden at the periphery of the business. Though the pair might not have known it at the time, they had tapped into what would become an increasingly thriving niche. As consolidation in the brokerage industry in the years that followed created behemoth services firms, smaller companies like Byrnam Wood became attractive alternatives for tenants seeking representatives with a less buttoned-up, corporate style. Mr. Ogden also focused on areas of the city, such as Midtown South, as well as industries, like advertising and media, that were far from the mold of what was traditionally viewed as the penultimate brokerage assignment: a deal to represent a financial tenant in Midtown.
Midtown South now has become the city's hottest leasing market by far, and Mr. Ogden's longtime focus there has positioned him well to partake in the area's success. Late last year, he represented the advertising firm ZenithOptimedia in a nearly 18,000-square-foot sublease at Chelsea Market, one of the neighborhood's best-known buildings. He also represents Nike, a tenant at nearby 111 Eighth Avenue.
They are tenants any broker would scramble to represent. And yet clients remain loyal to Mr. Ogden and Byrnam Wood.
WilmerHale, the large law firm that signed a deal for more than 200,000 square feet at 7 World Trade Center last year, for instance, hired Studley to help negotiate that transaction, but kept Mr.
Thanhauser and Mr. Ogden as consultants and co-brokers because it had worked with them in the past and was impressed with the job they had done.
Publicis, a company Mr. Ogden has worked with for years, used him as its broker in a 50,000-square-foot lease for Publicis Modem, a digital advertising subsidiary, at 85 10th Avenue in recent years.
Now the company is on the cusp of taking about 100,000 square feet in a deal in Long Island City, another impressive transaction Mr. Ogden is in the process of arranging.
"I think Long Island City is factoring in tenants' minds more now," Mr. Ogden said. "It's like a cheaper Midtown South. You get the industrial buildings, the loft floors, but it's a lot cheaper and just a subway stop from Manhattan."
With his neatly combed hair and squarish glasses, there is something Clark Kent-like about Mr. Ogden. He wears a bulky diving watch, an accessory of his onetime hobby of freediving and spear fishing.
"There are spear divers who will go down and hunt tuna fish," Mr. Ogden explained. "Those fish are 1,000 pounds and you wind up spearing them and just holding on."
Of course it's very possible to pass out during such a struggle, Mr. Ogden explains casually, in which case it is helpful to have a partner to drag you back to the surface.
"I'm not really doing too much of it anymore," Mr. Ogden said.
Though certainly contrarian, Mr. Ogden is not a man with a chip on his shoulder. He finds humor in the unscrupulousness or incompetence he sees in his big-league brokerage competitors.
"The big brokerage firms are good at what they do," Mr. Ogden said. "I just think that there's always going to be room for a shop like ours to thrive. You'll see it when we compete for business. A lot of the top firms will bring in all their top executives to win a client. But are they the ones who are going to be servicing the business? I think a lot of tenants are wise to the fact that they're going to get an underling. But with us, what you see is what you get and our clients know and appreciate that."
111Eighth Avenue
,
7 world trade center
,
Bruce Mosler
,
Byrnam Wood
,
Chelsea Market
,
Glengarry Glen Ross
,
Gordon Ogden
,
Joe Thanhauser
,
Nike
,
Pearce Urstadt
,
publicis
,
Studley
,
WilmerHale
,
ZenithOptimedia