As Lower Manhattan's resurgence as a shopping district draws nearer with the progress at the World Trade Center site and other major construction projects that will revitalize Downtown, a potential rivalry has come into better focus.
Across West Street from the WTC site, the World Financial Center is having its over 100,000 square feet of retail space redone by owner Brookfield Properties.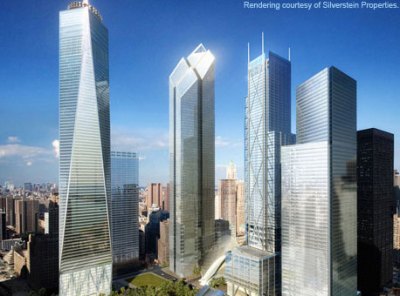 Though many brokers describe the WTC site and World Financial Center as different spaces, many say that retail tenants interested in entering the market in Lower Manhattan are still keen to compare the two and weigh which is a better fit.
With the World Trade Center retail's layout and offerings still a mystery to many retailers and their brokers because the marketing effort for that almost 500,000-square-foot project is still in the early stages, some say that stores are holding off on committing to either project before they can get a better sense.
"Some retailers are waiting to see what the World Trade Center retail plan and proposed co-tenancy looks like before they commit to deals in the neighborhood," Patrick Smith, an executive with SRS Real Estate, told The Commercial Observer.
Some retail executives said that the WTC site held an advantage because it so closely interweaves with the neighborhood's transit infrastructure, such as the Santiago Calatrava-designed PATH station.
"Practically every visitor who comes to Manhattan is now going to the World Trade Center Memorial," Amira Yunis, a top retail executive at CBRE, said, noting the WTC's advantage in foot traffic.
Ms. Yunis said she saw the World Financial Center as a location oriented more toward luxury retail.
"I think that's the type of tenants they want to draw," she said, adding that that strategy could be play out favorably when Condé Nast arrives at 1 World Trade Center in a little over a year.
"Think about all the workers Condé is going to be bringing Downtown," Ms. Yunis said. "Those are fashion people who are very retail savvy."
Brookfield appears to have an ace up its sleeve. According to sources, the company is close to a deal with a celebrity chef to open a roughly 25,000-square-foot high-end food market at the World Financial Center that the company is hoping will be akin to Eataly and the Grand Central Market, two food establishments that have become popular retail destinations.
"If it's something like an Eataly, it is a draw and that can be very important to success—it creates a whole shopping experience," Ms. Yunis said.
dgeiger@observer.com