Ratner's Drop In Power 100 Too Much: Norman Oder
---
---
Forest City Ratner developer Bruce Ratner suffered one of the most dramatic drops in this year's Power 100 (at least, without actually dropping out of the list), going from 48 in 2011 to 72 in 2012. But the Ohio-based company's biggest critic, Norman Oder, insists the 24-rung fall was too much.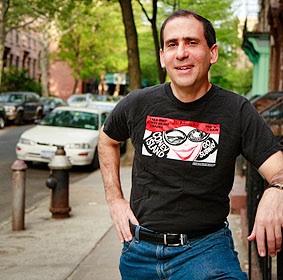 As Mr. Oder wrote on his blog Atlantic Yards Report earlier today:
"[W]ouldja believe it, I think the Observer went too far," wrote Mr. Oder, who has broken many of the most significant stories involving the project since being proposed in 2003.

"Sure, Ratner deserves a downgrade because of the continued delays in his plan to build the first Atlantic Yards apartment tower. But if Ratner can pull off modular construction, likely only with help from the city and/or state, you can bet he'll jump in next year's list. And he's opening an arena, no small feat."
The unlikely defense of Mr. Ratner was in response to a description in The New York Observer of Mr. Ratner and his company, which has proposed building modular affordable housing at the site, which would likely be more cost-efficient than building from the ground up:
"Mr. Ratner has taken his ball, but he can't go home yet," we wrote on Tuesday.
"The Barclays Center will actually open on time this fall, bringing professional sports back to Brooklyn, as well as Jay-Z, but the Cleveland-born developer has still yet to secure financing for the now-well-behind-schedule apartment towers. Those are now planned to be built modular, which has the potential to transform the way the city builds, but most New Yorkers will believe that when they see it. He completed one of the most beautiful buildings on the skyline by the world's most famous architect, with sky-high rents to boot, but the brand, not to mention the family name, has been so blackened in Brooklyn, it will be a wonder if he ever builds there again."
A cursory review of the Atlantic Yards Report leads us to believe that this is the first time Mr. Oder has ever defended Forest City Ratner.
Like Mr. Ratner, The Commercial Observer has also been taken to task by Mr. Oder, himself featured in the Power 100 list in 2008. Earlier this year he described a report on our tour of the Atlantic Yards as a "nada-burger" of a story.
He also put into quotes, perhaps as a sign of scoffing at the mere suggestion, our testament that Mr. Ratner was a "friendly man" when he foolishly invited us to sit next to him at ICSC.
As Mr. Oder points out approvingly, however, we did remove Brooklyn Nets owner Mikhail Prokhorov from the list.
"Ratner can take some solace that Russian billionaire Mikhail Prokhorov, last year unwisely (because his clout piggybacked on Ratner) placed at #23 on the Observer's list, has vanished from this year's list, apparently because he's been a non-factor in New York," he wrote.
drosen@observer.com