PreBuilding a New Identity
---
---
Billy Cohen, an executive vice president and principal at Newmark Knight Frank, was guiding The Commercial Observer through the construction of a new prebuilt office on the 17th floor at 292 Madison Avenue last week when he honed in on the exquisite lighting throughout the space.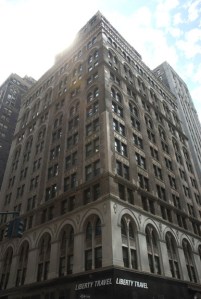 "All the light is ambient," said Mr. Cohen, pointing to a long, silver light fixture that aimed its luminescence toward the prebuilt's high and stark white ceiling. "It's more ergonomic, because it doesn't cast a glare on the monitors. That's all anyone gives a rat's ass about."
Mr. Cohen was joined by Gerald Nocera and Michael Reid, principals of Herald Square Partners who serve as asset managers at 292 Madison. They walked past a construction worker standing on a pair of drywall stilts—which gave the raw space a Cirque du Soleil touch—and into a conference room inside the 6,035-square-foot office space, where they sat themselves around a plastic table.
Once finished, the space will house FiftyOne Ecommerce, a tech start-up that creates e-commerce platforms for large U.S. companies and boasts Cabela's, Guitar Center, Guess? Jeans and Macy's as clients. The firm will be moving from fifth-floor offices at 8 West 40th Street for two floors of prebuilt space, totaling 17,148 square feet, at an asking rent of $55 per square foot.
In addition to the 17th floor, FiftyOne Ecommerce will be taking a larger, 11,113-square-foot space on the fifth floor. The company was represented by Wendy Miller of Cassidy Turley.
For Mr. Nocera and Mr. Reid, the building at Madison Avenue had become a recurring assignment, with both men having previously dealt with the asset when it was owned by SL Green, the real estate investment trust in which each served as chief operating officer during back-to-back stints.
"It's kind of funny for Mike and me. When we were at SL Green, we used to own this building," said Mr. Nocera, who served as COO between 2004 and 2007. "We knew the asset very, very well."
Both were at SL Green in 2007 when it sold its operating leasehold for the 187,000-square-foot building to a partnership of Metropolitan Real Estate Advisors and the Marciano Investment Group, a company run by the fraternal founders of Guess? Jeans, for a reported $140 million.
292 Madison Avenue
,
Billy Cohen
,
Cassidy Turley
,
Ed Von Sover
,
FiftyOne Ecommerce
,
Gerald Nocera
,
Guess? Jeans
,
Herald Square Properties
,
Marciano Investment Group
,
Michael Reid
,
Mufson Partnership
,
Newmark Knight Frank
,
SL Green Realty Corp.
,
Wendy Miller