Move Over Patton: Bruce Mosler Tapped as Chairman of Military Consulting Group BENS
---
---
Bruce Mosler, Cushman & Wakefield's former CEO who is now a top broker at the firm, has been named as the chairman of BENS, an organization that helps the military and branches of government involved in defense and security apply best practices to their operations from the private sector.
Mr. Mosler was selected to the position after serving as an interim chair of the organization since November last year.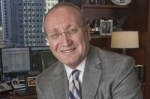 Known for being a successful and high profile commercial leasing broker in New York real estate circles, Mr. Mosler said his involvement in BENS grew out of his work with the World War 2 aircraft carrier moored on Manhattan's West Side, the Intrepid. Mr. Mosler is vice-chairman of the Intreprid Sea, Air and Space Museum.
"I was introduced to BENS through the Intrepid," Mr. Mosler said. "BENS is widely considered one of the best organizations of its kind and it's amazing for me to be able to make a contribution and apply my skill set to something that I hold in such revere; our armed forces."
BENS produces reports and makes recommendations that have helped agencies improve their bottom line by adopting processes and thinking from the private sector. The Department of Defense for example consulted with the organization in recent years to reform its procurement and trim administrative costs.
"We are helping the military and government cut costs or spend more efficiently so that the country doesn't have to make cuts to its war fighting capabilities and security," Laura Keehner Rigas, a spokeswoman for the group, said.
The group has also consulted with the Secret Service, the CIA and the Pentagon, Ms. Rigas said.
"We are thrilled that he will be leading us forward, continuing our impact on national security," BENS president and CEO General Montgomery Meigs said of Mr. Mosler's appointment in a statement released by the organization.
Since returning to brokerage in 2010 after serving as C&W's chief executive for five years, Mr. Mosler has handled a number of large deals, including NYU Langone Medical Center's over 300,000 square foot lease at 1 Park Avenue and the media company Meredith's over 200,000 square foot deal at 805 Third Avenue that have reestablished him as a top broker. In recent months Mr. Mosler was named the leasing agent for Manhattan West, a five million square foot office complex that is being planned by Brookfield Properties and is set to break ground later this year.