David Peyser Sportswear Signs 24,000 s/f Lease
---
---
David Peyser Sportswear has signed a nearly 24,000-square-foot lease for the entire fifth floor of the Garment Center building 463 Seventh Avenue.
David Peyser did a seven-year deal for the space for rental rates around $35 per square foot.
The lease came after David Peyser acquired the tenant that previously occupied the space, the women's coat label Junior Gallery, early last month.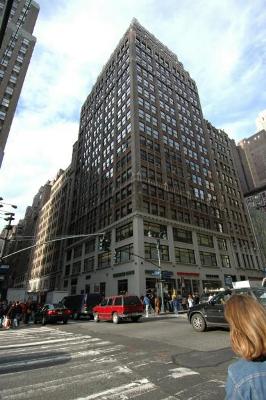 David Levy, a real estate broker with the services firm Adams & Co. who arranged the transaction, said that David Peyser wasn't obligated to inherit the floor through the acquisition because it had only purchased the brand and not all of Junior Gallery's operations and liabilities.
"We wound up canceling Junior Gallery's lease and signing a new deal with David Peyser for the floor directly because they wanted to keep the space," Mr. Levy said.
David Peyser has about 14,000 square feet at another building managed by Adams & Co., Mr. Levy said, 1071 Avenue of the Americas, where it occupies the entire 12th floor, but wanted to maintain Junior Gallery's office at 463 Seventh Avenue to keep the brands separate. One of David Peyser's best known labels is the brand Weatherproof.
"I think they could have squeezed everyone into the roughly 24,000 square feet at 463 Seventh Avenue and left 1071 Avenue of the Americas but they felt that it would be better to preserve the identity of each brand and keep them separate," Mr. Levy said. "Plus now they probably have a little extra space to grow rather than be packed together."
Mr. Levy said that 463 Seventh Avenue, which is on the corner of 35th Street, has increasingly become attractive to office tenants in recent years because of its proximity to Penn State but he has been reluctant to change the mix of occupants at the property, which consists mainly of apparel companies.
"I don't want to put an accounting firm next to a clothing company on the same floor, it's just not fair to the apparel tenant," Mr. Levy said. "One of the reasons why people come to this building is because of its mix of tenants in the industry and the atmosphere that creates. If we started diluting that by adding office tenants it would almost detract from their ability to be successful."
Mr. Levy said he has brought office tenants into the roughly 400,000-square-foot property but only selectively.
"We did a deal with New York Presbyterian for the entire 10th floor, which they use for administration offices and book keeping," Mr. Levy said. "They wound up expanding to take the entire 14th floor as well. But we did those deals because they were for the full floors."