So, heard any good crane stories as of late?
We have, especially in the past 24 hours.  Allow us to recount all three for thee:
Yesterday, the mechanic of a crane owner James Lomma (who is on trial for the deaths of two construction workers during a 2008 crane collapse) told a Manhattan courtroom that a language barrier and a poor understanding of arithmetic contributed to the shoddy repair of the crane involved in the fatal accident.
The city Department of Buildings has ordered crane operators and users across the city to lighten their loads  –using it to a maximum of 75 percent– to prevent another accident similar to the accident at 4 World Trade Center last month, DNAInfo.com reports.
A crane on a barge that was being towed by a tugboat knocked into scaffolding on the underside of Brooklyn Bridge last night, The NY Times reports. 20 feet of scaffolding was damaged, no one was reported injured, and the accident had no affect on the vehicle traffic on the bridge.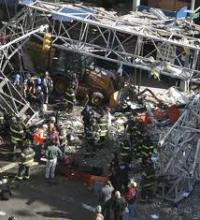 As all three stories will evidence, it's hard out there for a crane.
Prosecutors in the nearly month-old  Lomma trial have been depicting the crane owner, who runs New York Crane & Equipment Corp., as a man who rushed the repair of a faulty crane to keep it in use (and profitable).  Yesterday, mechanic Tibor Varganyi, who admitted to having only completed one year of high school in his native Hungary,  said that he had trouble communicating in basic English with Chinese firm RTR Bearing, which had been hired to repair the crane on the cheap, prosecutors allege.
The NY Daily News reports:
Varganyi said he found the Chinese firm RTR Bearing and sent the first of 99 emails to sales rep Joyce Wang, in which their language limitations were evident.

"Joyce Hi Sorry but I find a problem in drawing the A22-73NXX is the proper holes for outer ring 32 holes Equalcq spaces," he wrote in one email shown to the court.

"Sorry, I really confused by this two drawings," Wang replies.

Relatives of the dead shook their heads as Varganyi described how he struggled to make himself understood — and how he was confounded by Chinese notations on mechanical drawings.

Varganyi said that in the end, a co-worker made a template of the piece he needed and shipped that to China. He said the replacement piece that ultimately failed cost $21,790.
The DOB's new crane mandate, meanwhile, will be in effect while the city agency, along with the Port Authority and the Occupational Safety and Health Administration, completes its investigation of 4 World Trade Center accident, which dropped steel beams 40-stories down to a truck, which had been crushed in the process.
The accident has delayed work on the tower by about two months, with it expecting to top out in July, DNAInfo.com reports.
drosen@observer.com