Thor Closes on $130 Million 5th Avenue Buy
---
---
Real estate investor Joe Sitt, chief executive of Thor Equities, has closed on the purchase 516, 518 and 520 Fifth Avenue, three office and retail buildings on the corner of 43rd Street, for $130 million from RFR Realty.
Thor Equities went into contract on the buildings in December last year, unveiling plans to demolish them and build a 290,000 square foot glass property in their place that would house 30,000-40,000 square feet of retail on its lower floors and a hotel upstairs.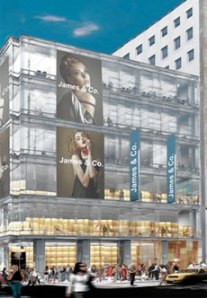 The $130 million purchase price equates to about $450 a buildable square foot, well above a Manhattan-wide average of about $320 according to Bob Knakal, chairman of the real estate brokerage company Massey Knakal, which wasn't involved in the deal but tracks sales data in the city.
An investment sales team from Jones Lang LaSalle led by Richard Baxter handled the sale on behalf of RFR Realty.
Mr. Sitt has purchased several buildings on Fifth Avenue and his acquisition of 516-520 Fifth Avenue was seen as a bet on the migration south of the posh retail corridor that exists higher on the avenue. Mr. Sitt's development plan would appear to cater to the area's two biggest opportunities. Retail rents on Fifth Avenue are the highest in the city and can top $3,000-per-square-foot for prime locations. The project's hotel would also appear positioned to benefit from the area's bustling tourist traffic.
A source said that several large hotel brands are in talks to anchor the development, including Virgin Hotels, the hospitality chain launched by Richard Branson that has yet to open a U.S. location. Hilton and Starwood are also said to be looking to partner with Thor Equities at the property. JLL's hotel group is helping to arrange a deal between Thor and a hotel operator.
Executives at Thor Equities could not be reached for comment.