The Queen of Green: Jean Savitsky Reflects on Bank of America Tower
---
---
Jean Savitsky, the director of sustainability at Jones Lang LaSalle, oversaw the greening of the Durst Organization's Bank of America Tower in 2009—and to this day it's the city's only new development to be designed with LEED Platinum certification in mind. As such, Jones Lang LaSalle's resident environmentalist has been hailed in certain circles as a leader in her industry. Ms Savitsky spoke to The Commercial Observer about creating a sustainability plan for the Bank of America Tower, still arguably the most dramatic example of green building in the entire country.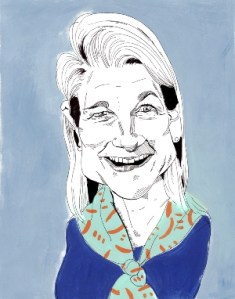 The Commercial Observer: Why, two years after receiving LEED certification, is the Bank of America Tower still the only new commercial development to obtain Platinum status in New York City?
Ms. Savitsky: New construction, yeah, it's still the only one. That's a good question. Obviously a lot of development slowed down after the economy turned, but I also think that it takes a certain kind of person that truly has thought leadership about what a great building should be and could be, and has that as a core value and is willing to take some risks trying new technologies.
A generation ago there was no such thing as a sustainability director, which means you and your contemporaries are writing the rules as you go. How did that play out as you worked on the Bank of America Tower's sustainability plan in its earliest stages in 2004? Was there a lot of room to be creative?
That's absolutely true. With the Bank of America Tower, that was a LEED pilot project so it was one of the first buildings ever to go through the LEED ratings system. At this stage of everybody's life it's hard to remember when LEED wasn't part of our vernacular, but that's what it was way back when. And, yeah, we're all still trying to figure things out, but if you're doing this the right way, you've got one eye toward the future to say, "O.K., this is what we know now and the best way to do things now, but what's coming?"

Considering what you just said and the fact that technology changes rapidly, is there anything you would have done differently at the Bank of America Tower if the technology had existed eight years ago?
I think some of the technology that we perhaps looked at but didn't incorporate because it was not cost-effective—like solar or wind technology—at this point, eight years later or 10 years later, it might be worth revisiting. Daylight controls, for sure, have come a long way since we installed them at 1 Bryant Park.
Clearly, the Dursts walk the walk when it comes to the environment, but can they speak your language?
We were partners all the way through because Jones Lang LaSalle represented Bank of America in the construction of that building, so the bank is 50 percent owner as well as the major tenant. So, yeah, they're fully aware of these things. And some of the things Bank of America incorporated in their fit-out the Dursts incorporated into their own space as well. I think part of the success, frankly, is that the tenants' needs were taken into account while the building was being designed. There was a lot of communication all the way.
Despite the economy, is there a developer capable of duplicating the Bank of America Tower right now?
I think the answer is yes, and it should be unequivocally yes because, number one, if you design and build a LEED Gold, Silver or Platinum property the user community of office space now understands what that means. They understand they're going to be in a better building. They're going to be in a building with a lot of attention to the environment and building performance. So I think any developer that does that is going to attract tenants, and especially if you're working in this competitive environment where, all things being equal, if one's LEED and one isn't, educated tenants are going to want to go into the LEED building.