The Edge Slices Three New Lease Deals
---
---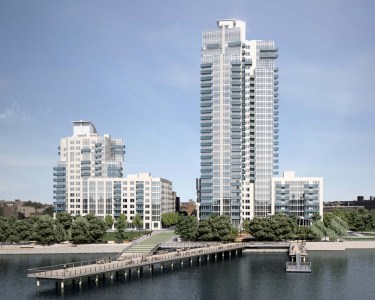 The Edge, one of Williamsburg's newest condominium buildings and fastest selling apartments in the city, just signed three new retail tenants to occupy their ground floor spaces: Fabbrica, Ride Brooklyn, and the Brooklyn Harvest Market.
From the same owner as Acqua at Peck Slip Restaurant and Wine Bar in Manhattan, Fabbrica, an Italian espresso bar and specialty store, will be leasing a 3,000-square-foot space on the corner of North 6th Street and Kent Avenue. Ride Brooklyn, a Brooklyn-based bicycle and skateboarding shop, will also be leasing a 3,683-square-foot space at 34 North 7th Street. The leases were signed for 20 and 15 years, respectively.
Most significant, however, is the transaction for the Brooklyn Harvest Market, which will occupy 15,000 square feet on the corner of North 5th Street and Kent Avenue, offering organic groceries, a pizza bar, sushi and seafood section, and local produce. The firm, which operates under a different name for each market, will open its first Brooklyn location. There are a few markets in the New York area, where the company is based, as well as locations in Ohio.
"The tenant was looking to expand into a market ripe with excellent growth potential," said Robert Greenstone, chairman and chief executive officer of Greenstone Realty and an exclusive agent for both parties. "The Edge seemed perfect because the immediate area has become a densely-populated neighborhood without a competing supermarket. The Williamsburg area is quickly becoming a destination for food lovers and offers a perfect opportunity for a market—specifically one that focuses on excellent produce, prepared foods, and quality products – to serve a strong residential area."
The Edge was completed in 2011 with approximately 60,000 square feet in leasable area in which only 15,000 square feet remain empty. Mr. Greenstone further noted that "EDGE ownership was very particular as to the brand of supermarket they would allow. The space was designed specifically for a supermarket. The question was: which one? Conversely, Brooklyn Harvest has been very particular about where to locate."