Société Générale Puts Two Floors On The Market at 245 Park
---
---
The French financial insitution Société Générale is placing at least two floors on the market for sublease at its new home on Park Avenue.
The bank leased roughly 440,000 square feet at the 1.6 million square foot office tower 245 Park Avenue at the end of 2010 in order to relocate from its long time headquarters at 1221 Avenue of the Americas.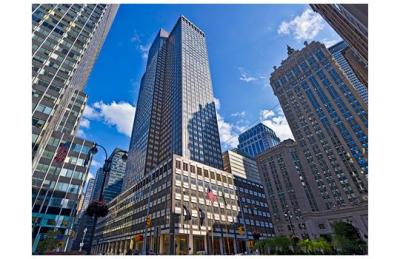 According to written reports at that time, the bank leased floors three through 15 in the 44-story skyscraper in a 10-year sublease from JP Morgan Chase that will convert into a 10-year direct lease beyond that with the building's landlord Brookfield (BN) Properties.
Last week, Société Générale made two of the floors in the block that it occupies, 13 and 14 sized at about 72,000 square feet of space, available to takers.
The upper three floors in the company's stack, 13-15, were originally contemplated as expansion space according to reports. It isn't clear though whether the recent sublease offer is indicative of a change in the company's projections of growth or whether it had planned all along to unload the space (which will be technically a sub-sublease) to give it time to stretch onto the additional floors.
Société Générale's earnings took a drubbing last year as the European debt crisis threatened to boil over into a full blown financial meltdown on the Continent. The bank, France's second largest, withheld its stock dividend for 2011 and suffered a 30 percent drop in profits in the third quarter as a result of exposure to toxic Greek debt.
A spokesman for Société Générale did not respond to comment by press time.
A CBRE team comprised of executives James Ackerson, Craig Reicher, Patrick Murphy and Kenneth Meyerson is handling the sublease assignment for Société Générale. None could be reached for comment.
There have been concerns in the city's leasing industry that European banks and even domestic institutions will place sublease space onto the market in the aftermath of Europe's sovereign debt problems and also due to tightening regulations in the US financial industry.
The first quarter is shaping up to be a bust for leasing activity in Manhattan, according to preliminary figures from the first two months of the year. This is in large part because financial industry tenants, the most active takers of space in the city, have not been committing to large office deals.
dgeiger@observer.com