Nomura To Hand Back 160,000 Square Feet, and Maybe More, at Worldwide
---
---
Nomura is casting off space at Worldwide Plaza by not exercising rights it had to portions of the 900,000 square feet it lease at the 1.8 million-square-foot skyscraper last year.
The decision whittles away at least 160,000 square feet from the Japanese financial institution's large deal at the property, though some sources familiar with the company said it could give back as much as 200,000-250,000 square feet.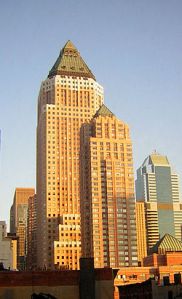 In order to shed the space, Nomura declined to take the 33-35 floors, a roughly 100,000-square-foot portion of its lease that it had the right to cancel. Floors 29 and 30 will serve as potential future expansion space for the company, but it opted not to exercise their rights over them for now.
The give-back shows the negotiating leverage Nomura carried into leasing talks with the building's landlord George Comfort & Sons last year.
George Comfort & Sons, which bought the building with other investors during the recession, was locked in a heated competition with Nomura's current landlord, Brookfield Properties, over who would get to do a deal with the company. George Comfort & Sons eventually emerged as the winner, but it's now clear that the deal the company agreed to contained a host of caveats that would allow Nomura significant leeway in deciding what it would finally take.
A number of brokers expected Nomura would cast off space.
Nomura's deal, which was one of the year's largest, raised eyebrows because the company occupies between 500,000-600,000 square feet at Brookfield's downtown office complex World Financial Center and the 900,000-square-foot deal appeared to be a massive expansion. If Nomura gives up even the larger 250,000-square-foot number that has been rumored, it would still be growing through the deal at Worldwide Plaza beyond what it previously occupied, just not as dramatically.
The company's cutback on space fits in with what appears to be a widening trend among tenants, particularly in the financial industry, who are suddenly not quite as voracious for space as they once appeared.
In recent weeks the French financial insitution Société Générale decided to place at least two floors, totalling about 72,000 square feet, on the market for sublease at its new home at 245 Park Avenue.
The bank leased roughly 440,000 square feet at the 1.6 million square foot office tower at the end of 2010 in order to relocate from its long time home at 1221 Avenue of the Americas.
Peter Duncan, the chief executive of George Comfort & Sons, couldn't be reached for comment. A Nomura spokesman didn't return calls for comment by press time