O Canada: Blakes Re-signs at Tower 56, Gets Own Floor
---
---
Blakes, a 150-plus-year-old Canadian law firm with offices across the globe, has renewed its lease at Tower 56 (126 East 56th Street) and will be moving to its own floor in the deal, The Commercial Observer has learned.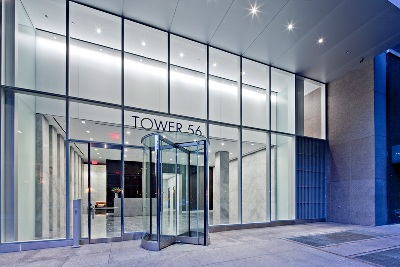 The firm will be relocating from its 8th floor office to the entire 17th floor, sized at 5,619 square feet.
Harry Blair and Sean Kearns, both of Cushman & Wakefield, represented the building's owner, Pearlmark Real Estate Partners. Both men are exclusive leasing agents for the building.
Randy Abend of Jones Lang LaSalle represented Blakes.
The lease is for 7 years. Asking rent for the building is a whopping $79 a square foot.
In a prepared statement sent to The Commercial Observer, Mr. Blair said that recent refurbishments made to Tower 56, work that was handled by architecture firm Moeb de Armas & Shannon, helped convince the Canadian counselors to stay and move up in the building.
"The renovation of Tower 56, which features a new lobby and elevators, was very appealing to Blakes," said Mr. Blair, a senior director at Cushman & Wakefield.
Renovations included a new lobby with a "dramatically lit entrance" and elevators that have been outfitted with ebony wood and translucent glass panels.
Tower 56, located in the Plaza District, is a 185,000 square foot Class A building between Park and Lexington Avenues.
Founded in 1856, Blakes has recently notched a string of accolades commending it for its work. It was named "Law Firm of the Year: Canada" by Chambers and Partners in 2012, and was selected as one of "Greater Toronto's Top Employers" in 2011.
The company was also the first Canadian law firm to open a practice in the Gulf Region after it set up shop in Manama, Bahrain. It also formed an alliance with the firm of Dr. Saud Al-Ammari in Al-Khobar, Saudi Arabia.
drosen@observer.com