Lee & Associates Find New Home at 600 Madison Avenue
---
---
Lee & Associates is moving into a new 22,000 square foot office at 600 Madison Avenue to accommodate the real estate services firm's surging growth in recent months.
The company is taking the entire third floor of 600 Madison Avenue in a four-year sublease from Tiffany & Co., the jewelry company that vacated the property last year to relocate to the high end Midtown South building 200 Fifth Avenue.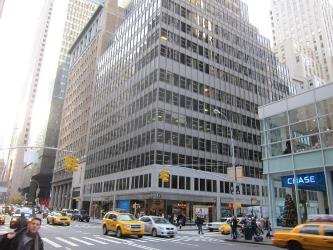 The company's New York branch was launched late last year by Jim Wacht, Peter Braus and Joel Herskowitz.
Mr. Wacht and Mr. Braus are top executives and principals at the real estate investment and management firm Sierra Real Estate, and Mr. Herskowitz is a former brokerage executive and manager at Grubb & Ellis and Newmark (NMRK) Knight Frank.
The three men arranged to spin off Sierra's in house leasing business into a Manhattan outpost of Lee & Associates, a national real estate services chain, in order to break into the third party leasing business.
"Now is such an opportune time to be growing," Mr. Wacht told The Commercial Observer in an interview this afternoon at the new space, noting recent upheavals in the brokerage industry such as the bankruptcy of Grubb & Ellis two weeks ago that have offered an opportune window to recruit. "If this deal had come to us three years ago, we wouldn't have done it."
Lee & Associates will share the space at 600 Madison Avenue with Sierra's operations and will be relocating to the new space from Sierra's former home in 7,500 square feet at 12 East 46th Street, a building that the company owns and manages.
The deal will more than double the size of the new company's space at time when it has fast added brokers.
Last year, Mr. Wacht and Mr. Braus hired Mr. Herskowitz to oversee the fledgling brokerage's operations.
Soon after, the firm poached two executive level brokers, Howard Rosen and John Cannon, from the ailing real estate services firm Grubb & Ellis.
"That's what really got us rolling," Mr. Wacht explained. "When we got Howard and John, I think we realized that we could get the kind of talent we needed to really create something."
In recent weeks, the company has continued to add personnel, bringing on Robert Kunikoff, a retail leasing broker also from Grubb & Ellis and two office brokers from the real estate investment firm George Comfort & Sons, Dennis Someck and Mitchell Kunikoff, who is Robert's younger brother.
Rick Donahue, an office broker, just joined the company last week, moving from the large real estate services firm Jones Lang LaSalle.
The new offices look across 58th Street at the base of the General Motors Building, one of the city's highest end office towers.
Mr. Braus said that he and Mr. Wacht were interested in rolling Sierra's brokerage business into Lee & Associates and growing it that way because of the company's national reach and brand.
"There are some brokers who just aren't going to join on a smaller, local firm," Mr. Braus said. "We felt that Lee would give brokers the kind of platform that would be attractive."
Mr. Braus described Lee & Associates as "entrepreneurial" in several ways. Offices in the company are set up, he said, by launching a venture capital fund that collects funds from senior level Lee & Associates brokers around the country.
"The way it works is that for each office around the country, a venture capital fund is created and senior level brokers at the company nationally are able to invest in the fund if they want to," Mr. Braus said.
Neither he nor Mr. Wacht would disclose how this fundraising technique within the company had raised for the New York branch, but said that it helped provide the funds to lease the new office at 600 Madison Avenue and pay other expenses.
Mr. Wacht said that brokers at the New York office would be given the chance to invest in office or residential buildings that Sierra acquires, an opportunity that is not typically available to executives at larger real estate services firms. Mr. Wacht expected brokers at the company to help source acquisition deals for Sierra in order to be able to buy into investment deals.
 Dgeiger@observer.com
12 East 46th Street
,
200 Fifth Avenue
,
600 Madison Avenue
,
Dennis Someck
,
General Motors Building
,
George Comfort & Sons
,
Grubb & Ellis
,
Howard Rosen
,
Jim Wacht
,
Joel Herskowitz
,
John Cannon
,
Lee & Associates
,
Peter Braus
,
Rick Donahue
,
Robert Kunikoff
,
Sierra Real Estate
,
Tiffany & Co.
,
JLL
,
Newmark