It's a Keeper: Fly-Fishing Mecca Orvis Snags Relocation Deal at 489 Fifth
---
---
The high-end fly fishing and sporting goods store Orvis is close to signing a deal to relocate on Fifth Avenue.
The shop has long been at the corner of 44th Street and Fifth Avenue, in the building 522 Fifth Avenue.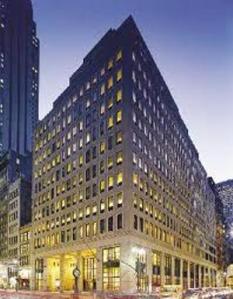 Orvis is in talks to move to 489 Fifth Avenue, which sits across from the New York Public Library, into a space currently occupied by the retail financial services company Superfund Asset Management.
Nearing the end of its lease 522 Fifth Avenue, Orvis found that renewal rates for the space had risen substantially beyond what it is currently paying, according to sources.
The deal at 489 Fifth Avenue will allow Orvis to slip into a smaller store and pay less rent. The company will downsize through the transaction from about 6,000 square feet to a little more than 3,000 square feet according to a person familiar with the deal.
Jeffrey Roseman, a retail leasing broker at Newmark Knight Frank, is the agent for the retail space at 489 Fifth Avenue. Mr. Roseman, a prolific retail dealmaker in the city, is said to have picked up the agency assignment to fill the space Orvis will leave behind at 522 Fifth Avenue, an office building that is owned and occupied by the financial firm Morgan Stanley.
"I know we're moving down the block," said a woman named Jennifer, who answered the phone at Orvis's Fifth Avenue store, though she said she didn't know where yet. Doug, a manager at the store, referred The Commercial Observer to Orvis's corporate office in Vermont, but a spokesperson for the firm couldn't be reached by press time.
Orvis's decision to head south follows a larger migration on the avenue. Fifth Avenue above 49th Street has long been known as one of the city's most exclusive and expensive retail neighborhoods. Though the caliber of tenants and stratospheric rental rates used to drop off below 49th Street, the retail corridor has begun to lengthen further to 42nd Street and beyond in recent years.
The British retailer Ted Baker is opening a flagship store on the corner of 48th Street, Guess opened a store on 47th Street, Tommy Bahama opened on 45th Street and Joe Fresh is planning a store for 43rd Street at 510 Fifth Avenue, right across from a large retail development being planned by Thor Equities that is expected to attract marquee tenants.
Retail experts have said it will only be a matter of time before more prominent retailers push across 42nd Street. 489 Fifth Avenue is located midblock between 41st and 42nd Streets.