Domino Sugar Factory Site Up For Sale
---
---
The Domino Sugar factory is for sale a little more than a year after the development team that controls the 11-acre site that the landmark building sits on won a hard fought battle in the City Council and the Department of City Planning to erect a series of mixed use towers on the large waterfront parcel.
According to several people with knowledge of the offering, the Community Preservation Corporation and partner, the Katan Group, have been shopping all or portions of the potentially $2 billion multi-building development to potential buyers.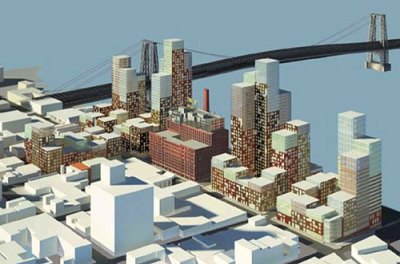 The sales offer comes as little surprise to people familiar with the CPC, which specializes in building affordable housing.
In 2010, the company came up with a plan to erect two towers up to 34-stories and two more that would be as high as 30-stories apiece, while preserving the site's landmarked Domino Sugar factory, a derelict brick building famous for its large Domino logo and for the way its profile typifies Williamsburg's industrial aesthetic.
The company's vision included 2,200 residential units, 660 of which would be affordable.
The development had lofty parameters according to developers who have looked at the site and considered investing in it. Few high rise waterfront developments in Williamsburg have such large components of affordable housing these sources say, which make the economics of the deal challenging. The project's focus on building condo units is also a hurdle these sources say. Many development projects in Williamsburg are rental because condo prices in the neighborhood have not yet bounced back from the recession.
The Domino factory itself presented its own issues a person said. The building, which was once a refinery for Domino Sugar, needs substantial structural and renovation work to transform it into a habitable structure. The site, once an industrial hub, also requires various environmental remediation work the source said.
Still, CPC's search for a partner or an outright sale comes at a time of growing interest in the Williamsburg market, a trendy neighborhood that has become a hotspot for development. In recent weeks, Bob Knakal, chairman of the real estate brokerage Massey Knakal, sold a development site at 77 Commercial Street to the developer Joseph Chetrit for nearly $30 million according to sources. Mr. Knakal and other executives at his company are also marketing a larger site nearby at 421 Kent Avenue. That development can accomodate up to about 430,000 square feet of residential construction and is expected to trade for around $50 million according to Massey Knakal marketing material released on the offering.
CPC wouldn't confirm whether it was seeking to sell the Domino site, which is located along the Williamsburg waterfront between South 5th Street and Grand Street.
"We are pursuing various options that will achieve our goals: to realize value for ourselves and our partners, and to insure that development is consistent with all project entitlements," a statement from a company spokesman read in response to The Commercial Observer.