Cushman Officially Announces New York City Opera Lease
---
---
On December 3, Commercial Observer staff writer Daniel Geiger exclusively reported on the New York City Opera's new lease at 75 Broad Street. Earlier today, Cushman & Wakefield officially released news of the transaction–three months later. After the jump, how we originally reported the leasing agreement, which sources originally described as 14,049 square feet to Mr. Geiger but now seem to stand at 16,936.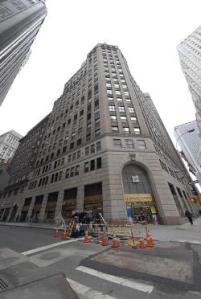 The New York City Opera has taken 14,049 square feet at the downtown office building 75 Broad Street.
The opera, which has been on increasingly unstable financial footing in recent months and is facing a potential strike its singers and dancers, will be taking a portion of the 600,000 square foot building's tenth floor. Floors in the building are about 30,000 square feet apiece.
Frank Cento, an executive with Cushman & Wakefield, represented the building's landlord, JEMB Realty, in the deal. Brokers Stephen Powers and Paul Wolf of the brokerage company Denham Wolf repped New York City Opera.
Mr. Cento, an brokers who handles agency assignments for several office buildings downtown, wouldn't comment on the opera specifically but said that 75 Broad Street was a property that has attracted many tenants for its value. Asking rents are $33 per square foot for lower floors and $35 per square foot for space higher in the 33-story tower.
As rents have bounced back in midtown from lows hit during the recession, rates in lower Manhattan have remained more affordable, making the area an attractive destination for tenants seeking value. Mr. Cento said that more tenants have come to the area in recent months because of the density of transit options including several subway lines and the PATH train to New Jersey.
Mr. Cento said that 75 Broad Street was almost full and that, in order to fill what few vacancies are left, JEMB Realty had constructed pre-built space that would appeal to tenants seeking the convenience of move-in ready offices. The landlord is offering an 8,400 square foot space on the fifth floor and two other pre-built spaces that are 6,100 square feet and 2,000 square feet in size.
Dgeiger@observer.com