Brookfield's Parking Czar Talks Garages
---
---
On the heels of Brookfield Office Properties' announcement that it was setting up two new Electric Vehicle charging stations inside One World Financial Center, The Commercial Observer checked in with Laura Longsworth, the company's national parking czar, on its so-called Green Garage initiative.
"Brookfield has this commitment to sustainability," said Ms. Longsworth, vice president of national parking operations, from her office in Denver, Colorado.
"We tried to think of ways to expand that program through our properties, and garages seemed like a logical choice," she added.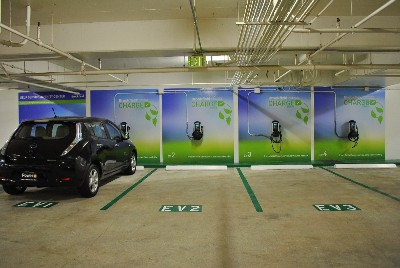 Yesterday, the company announced it would be setting up the new EV charging stations as part of its $250 million refurbishment plan for the World Financial Center, which includes implementing new environmentally-friendly practices and adding a state-of-the-art dining area and gourmet market to the complex.
Brookfield's "Green Garage Program" will also add sustainable features to the property's parking garage, including bike racks, LED light fixtures, and eco-friendly cleaning products for its janitorial staff.
This green initiative is supported by Brookfield's partnership with national nonprofit organization the Green Parking Council, and the garage will be a registered GPC Demonstrator Site.
The eventual goal is to get an electrical vehicle charging station in every city where Brookfield has a property "to get ahead of the curve, because not many other companies are doing it," said Ms. Longsworth.
The machines themselves can be costly, ranging in price from $8,000 to $10,000. To help defray the cost, Brookfield has struck a deal with Juice Bar, a maker of EV charging stations that were designed by BMW Group DesignworksUSA. Brookfield sold advertising space on the machine in exchange for the machines themselves, said Ms. Longsworth.
"Our philosophy has been 'charge cars, not people,'" said Ms. Longsworth. "We want to offer this as a tenant amenity. We want to be sure that we are head of the changes in the industry."
The "Green Garage" program includes using recycled paper for tickets and receipts, offering "waterless car washes" ("they use chemicals and elbow grease so that it does not use a lot of water and don't have to worry about water run-off," she said), and recycling.
Brookfield has up to 14 EV charging stations in full usage in its properties throughout the Los Angeles area, the most it has in any city. It has 6 EV charging stations in Houston.
While the "Green Garages" has earned them recognition from local BOMA (Building Owners and Managers Association) Foundations, the initiative has yet to make a dent in upgrading the LEED Certifications for the buildings they do have stations in.
"It's not easy to get that part of the property up for LEED certification," said Ms. Longsworth. Brookfield's approach has been to "set up our own standards for green garages, maybe LEED can fall into line," she said.
drosen@observer.com