510 Madison Avenue Signs Almost 30,000 Square Feet of Deals
---
---
A number of recent deals at 510 Madison Avenue have continued to push up occupancy at the high end Midtown tower.
The investment advisory firm, Fore Research and Management, just signed a ten-year lease for the roughly 350,000 square foot building's entire 11th floor, an 11,500 square foot space.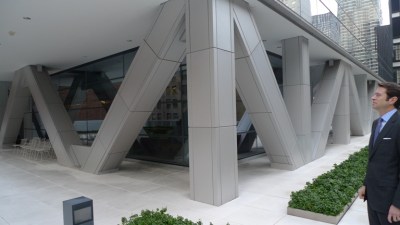 Citic, a large Chinese bank, did a deal for the building's 12th floor, which is also 11,500 square feet in size. Citic committed to the space for five years.
Jericho Capital Asset Management, an investment company, took a roughly 5,600 square foot prebuilt unit on the 27th floor, a space that has $130 per square foot asking rents. Jericho took the space for five years.
Rents for the floors in the building's midrise, where Fore Research and Management and Citic will be located, are around $100 per square foot.
Josh Friedman, an executive at Newmark Knight Frank, represented Fore Research and Management. Michael Monahan and William Iacovelli, both executives at CBRE, represented Citic in its deal. Jared Horowitz, an executive at Cushman & Wakefield, represented Jericho Capital Asset Management.
The activity totals almost 30,000 square feet at a time when the city's leasing market, particularly for expensive space, has slowed.
In a recent tour of the building given to The Commercial Observer by Paul Amrich, a newly promoted vice chairman at CBRE who leads the building's agency leasing team, Mr. Amrich showed some of the amenities that have continued to draw tenants to the property. In addition to Mr. Amrich, CBRE executives John Powers, Kerry Powers and Christie Harle handle dealmaking at the property.
510 Madison Avenue has a high end fitness facility in its lower level that includes a 50-foot lap pool and locker rooms that are well appointed for the gym's executive clientele. The tower steps back from the building's larger base floors in a manner reminiscent of the landmark office building Lever House, allowing room for a large outdoor common area on 510 Madison Avenue's seventh floor that serves both as a lounge area for tenants and a space that can be booked for events and gatherings.
The building was originally conceived by the father and son real estate development team of Harry and Billy Macklowe as a skyscraper with exclusive appeal that would serve as a redoubt for boutique financial companies. When the tower was completed in 2010 it hit a number of hurdles along the way, including a damaging damaging fire and leasing market in the doldrums due to the recession. But with a string of deals in more recent months, it has largely lived up to expectations. After nearly being seized by creditor SL Green during the economic downturn, 510 Madison Avenue was recapitalized by the large REIT Boston Properties and has since struck deals with a number of tenants, including SAC Capital, the large investment fund that took over 60,000 square feet at the building last year and is the property's largest tenant.
Mr. Amrich, who handles agency work for a number of upper tier buildings in midtown, was originally hired by the Macklowes. He weathered the building's hardships and has emerged as a successful dealmaker at the property working now under Boston Properties. Mr. Amrich was recently promoted to vice chairman at CBRE, a high ranking title for brokers at the firm. He is the youngest person at the company, which is the largest real estate services firm in the world, to be promoted to such high rank.
Many of the tenants that Mr. Amrich has brought to the building are now up and running, giving 510 Madison Avenue the feel of any other busy Midtown office building while pushing its days as a derelict monument to the real estate bust well into the past. Tours of some of the spaces inhabited by investment firms showed the lengths to which these well-heeled tenants go to outfit their offices with luxury installations. Some of the offices, especially in common areas such as lobby spaces, had the feel of a high end residential apartment.
Only a year ago, much of the space at 510 Madison Avenue was up for grabs. But now only select portions of the building remain, including the 30-story building's top two floors, which have asking rents around $140 per square foot. Space also exists on floors 14 through 23.
510 Madison Avenue
,
Boston Properties
,
CBRE
,
Cushman & Wakefield
,
Harry Macklowe
,
Jared Horowitz
,
Jericho Capital Asset Management
,
Josh Friedman
,
Michael Monahan
,
Paul Amrich
,
William Iacovelli