Queens District Attorney to Relocate
---
---
The
Queens District Attorney's Office
is considering a large lease in Forest Hills, Queens in offices that used to be occupied by the major airline JetBlue, several sources told
The Commercial Observer
.
The office of the Queen's DA, Richard Brown, is in talks to lease approximately 180,000 square feet at Forest Hills Tower, space that was formerly leased by JetBlue, which decided last year to relocate from the 500,000-square-foot building to Long Island City.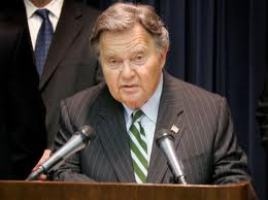 The DA's office would neither confirm nor deny the deal, with a spokewomen telling The Commercial Observer: "We have a chronic need for additional space to allow our assistant DAs to work in a professional atmosphere."
The spokeswoman added that no specific location had been selected.
Muss Development, the building's landlord, would only say that the property has drawn "considerable interest" from a variety of tenants.
Yet brokers familiar with the Forest Hills office market said that while the DA's office had not yet reached a definitive deal, it has been zeroing in on Forest Hills Tower, located at 118-35 Queens Boulevard at the boulevard's junction with Union Turnpike, for months.
The DA's office currently has space at 80-02 Kew Gardens Road, a distinct office building clad in mirrored glass that sits across Queens Boulevard from the Muss Development property. The DA has approximately 100,000 square feet at 80-02 Kew Gardens Road, a source familiar with the property said, and needs to relocate when its lease expires there because the buildings is not large enough to accommodate its growth.
After JetBlue made its decision to move from
Forest Hills Tower
, Muss Development rolled out an aggressive leasing campaign to fill the space. The company hired a star studded leasing team from the real estate services company
Jones Lang LaSalle
, led by JLL's New York area president
Peter Riguardi
and another top executive at the firm
Ken Siegel
.
Though the office property is well outside the city's prime office districts in Manhattan and surrounding areas like the Jersey Waterfront, downtown Brooklyn and Long Island City, Muss has marketed the property as well connected to commuters coming from Long Island and Westchester, especially by car. The building is near major vehicular arteries such as the Grand Central Parkway and the Long Island Expressway. It's also tied into bus lines. In front of the property is a station for the E and F subway lines.
Dgeiger@Observer.com