What the Freak! Boardwalk Mainstays Sign Long-Term Leases
---
---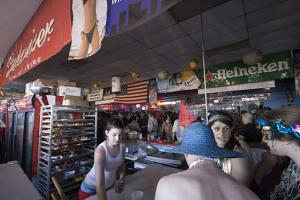 You can take the freaks out of Coney Island… actually, you can't.
After two years of trying to Disneyfy the boardwalk, city-sanctioned Coney Island operators Central Amusements International has asked a handful of Coney Island lifers to keep their coveted clapboard spots. Ruby's Bar, Paul & Daughters, Nathan's, the Orignal Coney Island Beach Shop and relative newcomers Lola Staar have all been given new eight-year leases along the beach, according to the Post.
Since it took over the city's license for the boardwalk, which runs for a decade, until the summer of 2019, Central Amusements has been looking to sex up the boardwalk. After it failed to bring in a high-flying Miami operator, CAI has turned back to the businesses it tried to shun, the Post reports:
Critics had worried that an influx of chain eateries could rob Coney Island of its character. But, as part of the lease agreements, all the companies agreed to make substantial investments in their rental properties.

The businesses also agreed to stay open year round and to hire new staff from the neighborhood.

"I can tell you we are going to have a full, blown-out boardwalk this summer," said Councilman Domenic Recchia (D-Coney Island). "This is just the beginning. We are supposed to open more spots and expand next summer."
Maybe this is one of those recessionary silver linings, but the fact remains, this is a win for the little guys.