Stockholm's Oldest Private Bank Grows at 245 Park
---
---
Skandinaviska Enskilda Banken
, a 155-year-old Swedish financial group whose name is a mouthful to pronounce, took more-than-a-mouthful of office space when it agreed to lease approximately
20,700 square feet
at
245 Park Avenue
.
The lease is for ten years at the Brookfield (BN) Properties-owned building.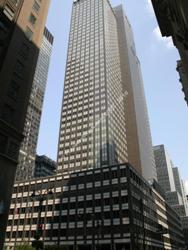 SEB will be moving down from the 42nd floor of 245 Park Avenue, where it currently has an office, to the 33rd for an office that is 4,000 square feet larger than its old oneon the 42nd floor.
Cassidy Turley's Aron Schreier and Jonathan Schindler represented SEB in the transaction. Brookfield Office Properties was represented by its own Duncan McCuaig, a Vice President of Leasing at the firm.
SEB had been in the building since the 1980s and, despite needing new space, was loathe to change its Park Avenue address, said Mr. Schreier.
For its new office, the firm wanted to fashion the space in a manner that "was reflective of their offices in Stockholm and around the world," he added.
The new space will have an open floorplate that should foster a collaborative workplace environment while reducing space costs, said Mr. Schreier.
This is the third deal Mr. Schreier has worked on — 2 lease renewals and 1 relocation — with SEB in Cassidy Turley's nine-year relationship with the Swedish financial giant.
"This is a very important relationship in our company," he said.
SEB — then called Stockholms Enskilda Bank — was first launched as Stockholm's first private bank in 1856 by André Oscar Wallenberg. In 1864, it became an equal opportunity pioneer of sorts when it became the first bank to hire women, according to the firm's website.
Its CEO is Annika Falkengren, whom Forbes called "the top woman in Nordic banking."
Ms. Falkengren's leadership is showing results. Standard & Poor's upgraded SEB's long-term rating to "A+" earlier this month.
drosen@observer.com
245 Park Avenue
,
André Oscar Wallenberg
,
Annika Falkengren
,
Aron Schreier
,
Cassidy Turley
,
Duncan McCuaig
,
Jonathan Schindler
,
Skandinaviska Enskilda Banken
,
Stockholms Enskilda Bank
,
Swedish chef
,
Brookfield