Advertising Spin-Off DDCD & Partners Moves to 17 State Street
---
---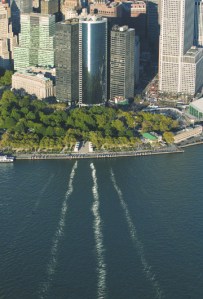 For months DDCD & Partners had been in the market for more than 10,000 square feet of space and the new advertising firm was starting to see a trend.
Its partners had walked through one stuffy Art Deco lobby too many and had spent too much time contemplating how the company's operations could be arranged in offices littered with bulky columns and, likewise, how company morale could be kept afloat in the cavelike environs cut off from light and air that they kept encountering.
DDCD had given its broker, CBRE executive vice president William Iacovelli, a simple mandate: find space in Midtown South. It was a request that Mr. Iacovelli was perfectly happy to comply with. For years, the neighborhood has been a draw for mad men and creative tenants alike.
But with Midtown South's rising popularity, submarkets like Chelsea, the meatpacking district, the Flatiron district and Hudson Square haven't necessarily become any easier for space takers to negotiate. Midtown South's vacancy rate, in fact, is in the mid-single digits, making it the tightest market in the city, not to mention the country.
On top of that, the area's stock of office properties is also among the oldest in Manhattan. So when a company is forced to peruse the leftovers, the choices often aren't pretty. Traipsing for months from one uninspiring location to the next, DDCD's principals believed that their dream of renting a loft-style office with funky appeal was beginning to dim.
"We walked through a lot of dingy lobbies," Mr. Iacovelli said. "We saw some options that could have worked but it just felt like they would be settling rather than getting something that they felt would reflect and enhance their identity."
Of course, there were more suitable options too. Higher end buildings like 414 West 14th Street and newly developed properties like 15 Little West 12th Street offered pristine space. But they came with a steep price tag. Other spaces that DDCD looked at weren't built out and would have required the firm to shell out the capital and suffer the inconvenience of preparing the office for its occupancy, which can be a significant construction project.