Three Tenants Sign at 681 Fifth Avenue
---
---
The owners of 681 Fifth Avenue, a building that already counts aspiring global fashion company Belstaff as a tenant, has brought on three new tenants into its fancy fold, including financial firms Peregrine Financial Group and Altum Capital Management.
Apex Bulk Carriers, an international owner of large shipping vessels, also signed a lease to take up the entire 11th floor.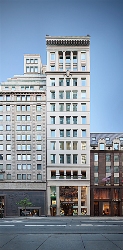 Altum Capital Management, a boutique finance firm, was drawn to the boutique feel of 681 Fifth Avenue, said Studley broker Lance Leighton, who with Evan Margolin represented the firm.
"They liked the high ceilings," said Mr. Leighton. "It was very boutique; kind of what they were looking for."
Altum will occupy the entire 15th floor, and Peregrine will occupy the entire seventh floor. Terms of the lease were not available.
The announcement came just a few weeks after Belstaff agreed to take up three floors in the Fifth Avenue building, which owner Metropole Realty Advisors had purposefully positioned as a luxury building for small-yet-prestigious clients.
After Metropole Realty Advisors 681 Fifth Avenue, the former site of The Metropolitan Museum of Art,  for $86 million in 2005, Chief Executive Robert Siegel said the company spent two years and $20 million completely refurbishing the building.
"There is no old aspect to the building other than its charm, the front façade and the floor slabs," said Mr. Siegel at the time of the deal. He could not be reached for comment.
Belstaff, a nearly-century old motorcycle jacket maker that was bought by Labelux Group for $161 million this summer, took floors 8, 9, and 10 of the building, totaling 17,505 square feet.
The only vacancy in 681 Fifth Avenue is a duplex penthouse, which offers sweeping views of Central Park and Fifth Avenue and includes a separate roof garden totaling 3,000 square feet.
Bruce Mosler, Arthur Mirante, Cynthia Foster, Mark Mandell, Ethan Silverstein, and Ashlea Aaron of Cushman & Wakefield represented Metropole Realty Advisors in the deal.
Michelle Walker, also of Cushman & Wakefield, represented Peregrine. David Rosenbloom of Cushman & Wakefield represented Apex.
681 Fifth Avenue
,
Altum Capital Management
,
Arthur Mirante Cynthia Foster
,
Ashlea Aaron
,
Belstaff
,
Bruce Mosler
,
Cushman & Wakefield
,
David Rosenbloom
,
Ethan Silverstein
,
Evan Margolin
,
Labelux Group
,
Lance Leighton
,
Mark Mandell
,
Metropole Realty Advisors
,
Michelle Walker
,
Peregrine Financial Group
,
Robert Siegel
,
Studley