Jones Lang LaSalle's Tristate President on Big Poaches and Big Moves
---
---
Since joining Jones Lang LaSalle in 2002 as president of New York operations, Peter Riguardi has spearheaded a rapid expansion drive that has culminated in the hiring of no fewer than 100 new brokers over the past nine years. Mr. Riguardi, 50, spoke to The Commercial Observer last week about that ambitious hiring phase, the firm's leasing assignment at 85 Broad Street and, for the first time, his plans to move the firm to 330 Madison Avenue.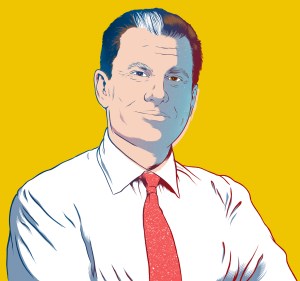 The Commercial Observer: In 2008 Jones Lang LaSalle entered what I'll call its major hiring phase. Has the firm's position in the market changed since that latest binge?
Mr. Riguardi: A lot has changed. We've added probably 50 to 75 brokers from our competitors here in the city. A lot of them are very senior rainmakers in the market place. The question at the time was, 'Wow, how will these people do at JLL and how will it affect the culture?'
With Cushman & Wakefield in particular, Jones Lang LaSalle managed to poach a lot of rainmakers, including Mitch Konsker and his team. Is there bad blood between the firms?
Between the lines it's a tough game and people hit hard and play to win. But we have the utmost respect for them as a competitor, and I'm sure they do for us. They're still doing fine and we're doing fine so hopefully there's no more competitiveness than there normally is.
Jones Lang LaSalle has a softball team. Has the firm played Cushman since Mr. Konsker and his team came over earlier this year?
I'm sure we have, but I'm too old to play now—thank goodness. But I'm sure you wouldn't want to have been playing second base on the double play during that game.
With leasing activity increasing in the past several quarters, are you personally sitting in on more pitch meetings than, say, a year or two ago?
I am blessed with a great Rolodex and have also been fortunate to work on varying kinds of assignments over the years, so I'm on just about every significant new business pitch that the firm goes on. Some of them are just to sort of help the teams and help secure and let the client understand the firm's involvement. But still, a lot of them I'm still involved with actively as a broker. And in those instances I'm usually coupled with some really competent people at the firm to be a part of that as well.
You remain very focused on bringing in and overseeing new deals while simultaneously overseeing the growth of Jones Lang LaSalle's tristate region. Is that hard to balance?
I don't want to toot my own horn, but I don't think it's ever been done. I mean, there are people who have had my type of responsibility, like [Global Chairman of CB Richard Ellis Stephen] Siegel, but they already had a very big ship. When I started here we weren't even 20 percent of the size that we are now.
Is it by choice or simply circumstances that you've been wearing several hats?
It was always the plan, and I think Jones Lang LaSalle always thought New York was strategic for them because it's New York, but also because it would help all of their business around the globe—so it was always their intent to grow and have a significant footprint. I don't think they ever realized that it could be as significant as it turned out.
Jones Lang LaSalle has been heading up leasing at 85 Broad Street since it was hired by building owner Metropolitan Life in early 2010. How has that assignment been going?
We had a million square feet to let there and we secured Oppenheimer for about 300,000 feet and so we've had a lot of great activity there. That deal was done just about six weeks ago and so we have about 700,000 feet left to lease. The building is going to undergo an uplift pretty soon with the lobby and cafeteria, but the building itself really has unbelievable systems and infrastructure because it was Goldman's headquarters up until they moved last year. So we're just really excited by the activity and the prospect.
When you were coming up in the commercial real estate industry, sustainability wasn't on the radar. As brokerage firms continue to hire sustainability directors, how hands-on are you when it comes to that particular aspect of the business?
It's a big part of what we do. We did the greening of the Empire State Building, which is really a great project for us, and it's something that I personally believe in. I live my life that way at home. And we're building new space and we're trying to achieve the highest level of LEED certification that we can. Our global CEO believes in it, so we're trying to definitely keep up with where the world is on that.
Was sustainability something you or your colleagues thought about 30 years ago?
Oh, not at all. It's something we never thought of. But my wife has always been on the edge with this, and at home I've been dealing with it for a much longer time than it's been popular.
Can you tell me anything about plans for Jones Lang LaSalle to relocate its offices?
We have made a commitment. We've taken 90,000 feet at 330 Madison Avenue—a Vornado building. And we're actually under construction right now and we'll move into the new space in late January 2012. And I think we're very excited to be moving to such a great building with a terrific landlord like Vornado, but I have to say—and you wouldn't be right if you didn't write it—we've had tremendous success in 601 Lexington. Boston Properties is just a premier landlord and it was a very difficult decision to leave.
Than why did you decide to relocate?
But obviously we're moving from the 30th-something floor to the lower floor of another building, and that was more in line with where we wanted to be financially.
Is this a result of all the recent new hires at Jones Lang LaSalle over the past two years?
Absolutely. We're so cramped on space right now it's a wonder that people can even be productive. We've added so many people, and we've jerry-rigged our space three or four times to accommodate it—so it is going to be nice to be able to get more comfortable and a little more efficient in our layout. Between brokers, accounts guys and the project managers, we've hired a couple hundred people—all in New York. In the tristate region we've had close to, like, 600 people.
Considering the recent moves by Cushman & Wakefield, CB Richard Ellis and Studley—not to mention a move later this month by Cassidy Turley—why are so many brokerages reconsidering their office space lately?
I think it's just timely with the lease expirations and maybe the consolidation and changes within the industry. I think everyone has made a different decision on what they believe their space should look like. Ours is going to be very open and transparent.
Considering that Jones Lang LaSalle's hiring phase has, for all intents and purposes, come to its fruition, what do you foresee as the next phase for the firm?
The next phase is to spread our wings. We expect that the people we brought to the firm will exceed their production levels historically from where they were at other firms, and one of my jobs will be to help them get there.
jsederstrom@observer.com